Tritonysia Play Festival Extended Auditions (Appointment Required)
Date

Tuesday, March 26, 2019

Time

1:00 PM - 9:00 PM

Location

Cox Auditorium - Fine Arts Building (J Building, Room 108)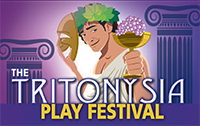 THE TRITONYSIA PLAY FESTIVAL
By Various Artists
Produced by Andrew Gallant
Appointment Required: Contact Andrew Gallant at andrewgallant@triton.edu
The Tritonysia is Triton's third annual short play festival.
Inspired by the ancient Greek festival, the Dionysia, which honored the god Dionysus in many ways, including that of a play contest.
The Tritonysia closes out our season with exciting new work, during which you will enjoy world premiere 10-minute pieces written and presented by Triton College students, faculty, staff and artists from the surrounding community.
This will be a fun festival for fans of performance, community and creativity!
Performance Dates & Location: April 26-28 & May 3-5, 2019 - Fridays and Saturdays - 7:30 p.m., Sundays - 2 p.m. at Cox Auditorium - Fine Arts Building (J Building, Room 108)
For more audition information and appointments, please contact Andrew Gallant at andrewgallant@triton.edu
Auditions are open to Triton students, faculty, staff and community members.