Tritonysia Play Festival (Evening Performance)
Date

Saturday, April 25, 2020

Time

7:30 PM - 10:00 PM

Location

Cox Auditorium - Fine Arts Building (J Building, Room 108)

Admission

General Admission: $10, Students, Faculty/Staff and Seniors: $5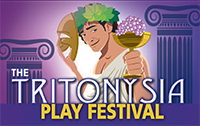 The Tritonysia is Triton's fourth annual short play festival.
Inspired by the ancient Greek festival, the Dionysia, which honored the god Dionysus in many ways, including that of a play contest.
The Tritonysia closes out our season with exciting new work, during which you will enjoy world premiere 10 pieces written and presented by Triton College students, faculty/staff, and artists from the surrounding community.
This will be a fun festival for fans of performance, community and creativity.