Return to Campus
As members of our community gradually return to campus, Triton College continues to implement the staged approach in the Campus Plan. As we transition through various stages of the plan, please note that most academic and student support services will continue remotely until further notice.
As part of the Campus Plan, we are sharing information about expectations and procedures to keep our campus clean and our students, staff, and community members safe.
Please see the frequently asked questions (FAQs) below for more information. The list of questions and corresponding answers will change based on the state of public health and as Illinois leaders provide new guidance.
On-Campus Responsibilities
Face Coverings
All persons on campus must wear a mask upon entering buildings, while walking through any public or shared spaces, while using shared equipment and technology (such as a printer), and if you encounter others on campus.
Disposable masks for guests are available at the greeter station at the B building entrance. Triton will provide two (2) face coverings per employee, which can be picked up in the Bursar's Office in B Building. Please make sure all Triton-issued and homemade masks are properly washed and disinfected on a regular basis.
Everyone entering buildings on Triton's campus is expected to wear a mask.
Self-Certification
Triton College is implementing CampusClear, a free mobile app that allows students, faculty, and staff on campus to self-screen for COVID-19 symptoms.
All employees, students, and campus visitors are required to self-certify each day within two (2) hours prior to starting their arrival on campus.
Regular Hand Washing
To reduce the risk of contracting COVID-19, it is important to follow good hygiene protocol, including regular hand washing. The Centers for Disease Control and Prevention (CDC) recommends:
washing hands often with soap and water for at least 20 seconds;
avoid touching eyes, nose, or mouth with unwashed hands; and
avoid close contact with people who are sick.
Additionally, automatic hand sanitizer dispensers are available throughout campus.
Additional Return to Campus Information
for Students
for Employees
What Triton is Doing

to Keep Campus Safe
Providing hand sanitizer to each department
Conducting most academic and student support services remotely until further notice
Conducting meetings virtually until further notice.
Posted ample social distancing signage and markings in all buildings
Requiring all employees to wear a face covering
Posted signs in all restrooms on campus promoting frequent and thorough hand washing.
Added plexiglass barriers in student service areas with high student traffic
Offering call-ahead to-go ordering through TriCafe
Maintaining thorough cleaning and disinfecting:

The College's Operations and Maintenance (O&M) staff have been trained in cleaning and disinfecting procedures.

In alignment with Centers for Disease Control and Prevention (CDC) and other federal, state, and local guidelines

, they are maintaining regular sanitizing practices, including routine cleaning and disinfecting of surfaces, equipment, and other elements of the work environment.
Positive COVID-19 Case Procedures
Following are Triton's procedures for addressing positive employee and student COVID-19 cases:
Campus-wide Safety Signage
Operations and Maintenance (O&M) has installed signage across campus outlining social distancing guidelines. This includes in building lobbies, reception areas and elevators.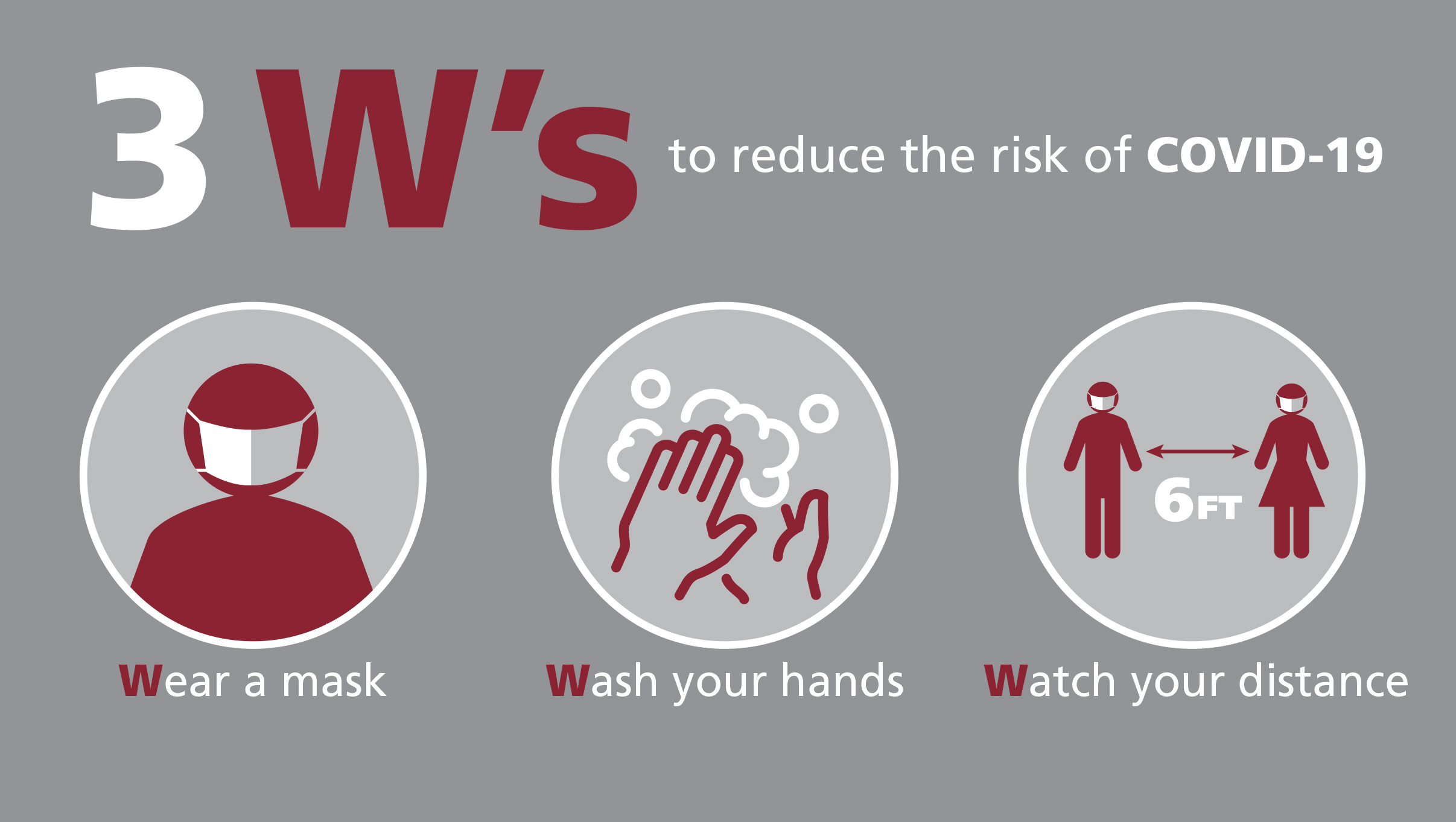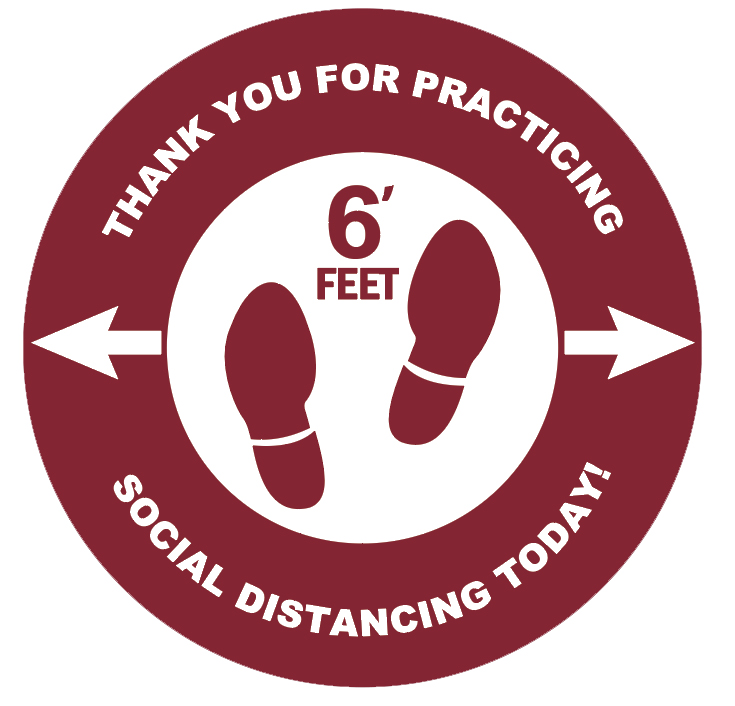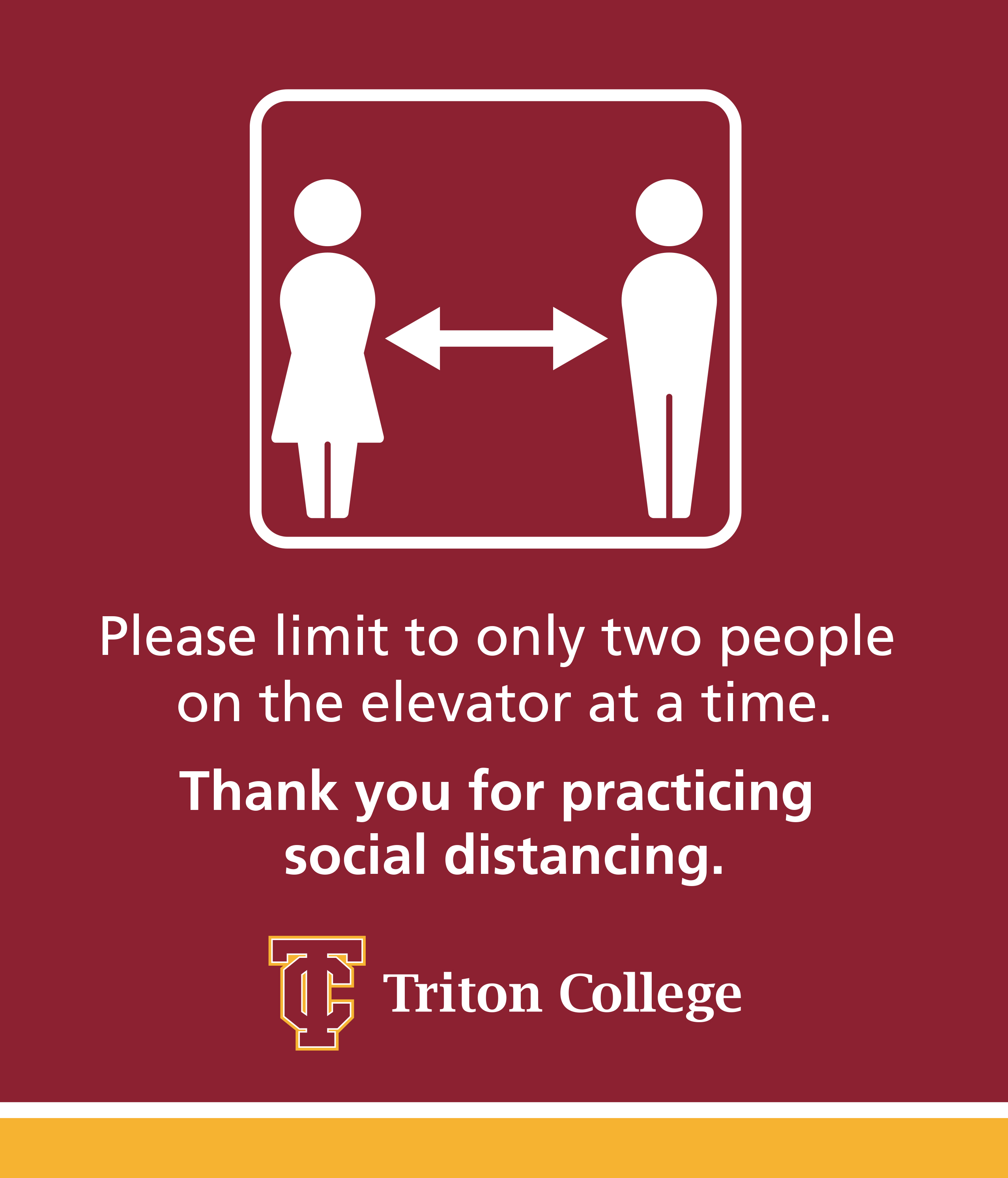 Frequently Asked Questions
What is Triton College's plan for the fall semester?
What happens if there is an outbreak of COVID-19 cases this fall in our district or at Triton College?
Are there any requirements prior to my return to campus that I need to meet?
Are there any expectations on campus that I need to know?
Who is required to wear masks on campus?
What are Triton's cleaning procedures?
When will the campus be open to students and visitors?
Can students still experience orientation and campus tours?
Is TriCafé open?
What will Triton's response be should someone on campus become ill due to COVID-19?
When is it okay for student workers to return to on-campus work?