Criminal Justice Administration
Criminal Justice Administration is a comprehensive field with career opportunities in several areas including: law enforcement, probation, parole and corrections; social-justice services; and security and loss prevention. The CJA Program prepares students for careers in public and private agencies in the social and criminal justice system. The two-year program includes the study of contemporary and advanced problems in modern law enforcement, criminal justice systems, administration, criminal laws and procedures, police and community relations and criminalistics.
The American system of criminal justice is comprised of three major components: law enforcement, courts and correctional systems at community, county, state and federal levels.
Students who wish to become probation, parole or corrections officers will receive the necessary foundation through this program. The study of law, social and justice agencies, and criminal offenders is included, with emphasis on corrections.
Study of careers in the social-justice services includes such agencies as the Department of Children and Family Services, public aid, corrections, and psychiatric and medical agencies.
Private security is an emerging career field in need of personnel with qualified credentials. The Criminal Justice Program provides courses to prepare students for entry-level security, armed and unarmed. Areas of employment include corporate, industrial and homeland security, hospitals, airline, bank, railroad, as well as college and university security.
Students planning additional study at a four-year college or university should enroll in the Associate in Science (U230A) or the Associate in Arts degree programs (U224A), which require a concentration of general education courses combined with selected core criminal justice courses and electives.
Degrees
Certificates
Courses
Accreditation
No information at this time.
Curriculum/Plan of Study
C243A, C443A, C443B, C443C
---
P.O.W.E.R. Test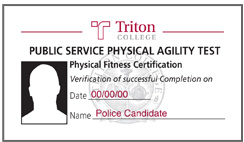 The Illinois Law Enforcement Training and Standards Board, in recognizing the importance of physical fitness status for academic performance (and eventual job performance), has established the Peace Officer Wellness Evaluation Report (POWER) test for entering any of the Illinois certified police academies.
The POWER test will be provided to all candidates prior to entering the academy to see if each individual meets the standards. The fitness entrance requirements help to ensure that each recruit can undergo both the physical and academic demands of an academy without undue risk of injury and with a level of fatigue tolerance to meet all academy requirements. If the applicant does not meet all the standards, the recruit will not be allowed to enter their academy.
View list of our Village Partners and Police Agencies accepting our P.O.W.E.R. card
For more information about the P.O.W.E.R. Test, contact Continuing Education at (708) 456-0300, Ext. 3500 or email AskCE@triton.edu.
---
S.M.I.L.E. Program
S.M.I.L.E. – Stress Management in Law Enforcement – is a 15-week course in which the first half of the semester will be spent learning about stress management and its relationship to nutrition and fitness, and the second half will focus on physical agility training to satisfy the fitness components of the P.O.W.E.R. Test.
At the conclusion of this course, students will be tested in accordance with the P.O.W.E.R. Test requirements, and upon successfully passing the test, will receive a certification card which can be presented as proof that they have met the P.O.W.E.R. Test standards.

Triton College Criminal Justice Administration (CJA) Coordinator John Augustine noted that in Illinois, one half of all law enforcement candidates fail the P.O.W.E.R. Test, making them ineligible to join the police academy. A person may be prepared mentally for the job, but they must be prepared physically as well," he said. "This is a one-of-a-kind course that can help more candidates prepare to pass their physical agility test and give law enforcement agencies a larger talent to pool to select from.

The course is recommended for criminal justice students interested in finding employment immediately following graduation, as well as law enforcement candidates who may have previously failed the P.O.W.E.R. Test and are interested in retesting.
The S.M.I.L.E. (CJA 107) will be offered at the college's current tuition rate for a three-credit hour course, plus academic verification process fees.

For more information about the S.M.I.L.E. Program, contact Gregory Catena at (708) 456-0300, Ext. 3326 or email gregorycatena@triton.edu.

---
Contact information
Gregory Catena, MS
Department Coordinator
Office: R-215B
(708) 456-0300, Ext. 3326
gregorycatena@triton.edu
Dr. Jackie Mullany, Ph.D.
Tenured Faculty
Office: R-215C
(708) 456-0300, Ext. 3504
jacquelinemullany@triton.edu