Enrollment Steps
PLEASE NOTE: This page outlines the application process for traditional, credit-seeking students. If you are a Continuing Education or Adult Education, a Dual Credit Student, a Guest Student or an International Student, the process may be different.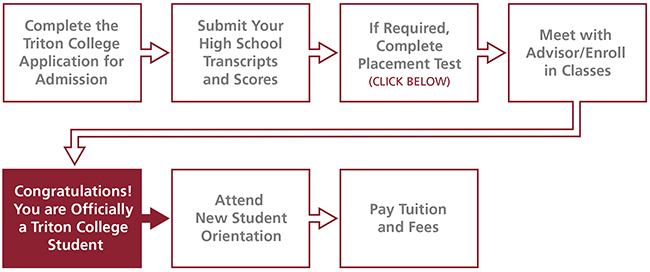 STEP ONE: COMPLETE OUR APPLICATION
It is free to apply to Triton College. Our application is simple and it can be finished in less than 10 minutes. Please be sure to save your login information. If necessary, you may save your progress and complete the application at a later time



Once your application is accepted, you will receive an email that lays out the next steps in the enrolment process. You will also receive an official acceptance packet in the mail within 7 to 10 days.

STEP TWO: SUBMIT YOUR HIGH SCHOOL TRANSCRIPTS OR GED SCORES
All new degree-seeking students or those planning to take a course that requires college-level math or English must adhere to the course placement process. Course placement can be satisfied by using past work or through placement testing. New first year students may be exempt from the placement test by demonstrating college-level proficiency through qualifying SAT, ACT, GED scores or high school GPA. Please refer to Triton College's Placement Measure for more information. It is recommended that you use a third-party service like parchment.com to submit your transcripts or GED scores.


REVIEW TESTING WAIVER CRITERIA


STEP THREE: MEET WITH AN ADVISOR
After you take your placement test or receive your testing waiver, you will need to meet with an academic advisor. Your advisor will help you develop a long-term academic plan. Then they will register you for your first semester of classes. This step is required for all new students. After your first semester you will be able to register for classes on your own via your student portal.


SCHEDULE AN ADVISING APPOINTMENT
Save
Save
---
Congratulations, you're officially a Triton College student!
Now What?
Register for Classes
Registering for classes can be done in-person, over the phone, or through the student portal. Classes fill quickly, so it is important to register early for the best selection of courses and class meeting times. Students who completed orientation online must meet with an advisor to register for class. Advisors are available to all students seeking assistance in course selection and academic planning.
Pay your Tuition for classes
After registration, students should pay their tuition or make payment arrangements as quickly as possible to avoid being dropped from classes.* Payments can be made at the Cashier's Office, located in the Student Center, Room B-130. Students receiving Financial Aid will receive additional information about any portion of tuition they may still owe.
Payment options:
Payment in full by cash, money order, check or credit card (MasterCard, Visa, or American Express)
*The payment grace period ends approximately three weeks prior to the start of the semester. After that, tuition is due within two days (48 hours) of the date that you register. If you are unable to make payment or setup a payment plan, your classes may be dropped and you would have to register again.
---
Returning Students
Triton College defines a returning student as one who has not been actively enrolled for one calendar year, or any Triton College graduate returning to take additional classes. To successfully re-enroll, returning students will need to complete the following steps.
Step 1: Fill out and submit the Readmission for Returning Students Form.

Step 2: If your contact information has changed, please contact the Records Department to update your information at 708-456-0300, Ext. 3213.

Step 3: Submit official transcripts if necessary. If you have previously submitted your transcripts they will still be on file and do not need to be re-sent.

Step 4: Take placement test if needed. Students do not need to take the placement test if they have already done so within the last two years or if they earned a grade of "C" or better in college level mathematics and/or English.

Step 5: Meet with an advisor and register for classes. Or you can register online through the MyTriton portal, or in person at the Welcome Center, or by phone at (708) 456-0300, Ext. 3130.
---
Guest Students
Are you currently attending another college or university?

Enroll as a guest student at Triton College.

It's a convenient and affordable way to move ahead with your education.