Back to College
No matter how long it's been, there's a place for you at Triton College. We are here to help you turn existing college credits into a degree or certificate and get you ready for a new career or your next job.
Interested in brushing up on your job skills or upskilling for your next position? Check out our short-term certificate programs.
Interested in a college degree? Explore our degrees by areas of interest or department.
Has it been two or more years since you've been enrolled at Triton College? No problem, get back to college in four simple steps:
---
Back to college. Back to you!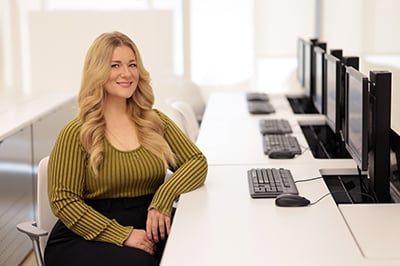 "Learning never ends, you just have to keep pushing forward."
Sarah Gucciardo
Cybersecurity Student at Triton College
Melrose Park, Ill.
When Sarah Gucciardo of Melrose Park was looking for a new in-demand, financially stable career, she turned to Triton College. "Nontraditional students who think they can't do it, can!" Gucciardo said.
"Triton has been just amazing to make sure that I can work around my schedule. There are classes available so I can do what I need to with my family, within my finances and still go to college."
---
Frequently Asked Questions (FAQs)
Will I still fit into the College environment now that I took time away?
How do I decide if going back to school is worth it?
How can I find out how long it will take me to finish my degree or earn a credential?
Can I get credit for taking college classes in the past or for work and life experience?
How much is this going to cost and how can I pay for it?
Is there someone I can talk with about the process of returning?
It's been a while since I attended school, what support will I get?
What resources do you have for student parents?
I may need an accommodation for an in-person or online class, how do I set this up?
I can't take in-person classes on weekdays, what options are available?
What virtual support do you have available if I can't come to campus?