September 28, 2018
Area Education Leaders Ready to Implement Triton's TRIUMPH Program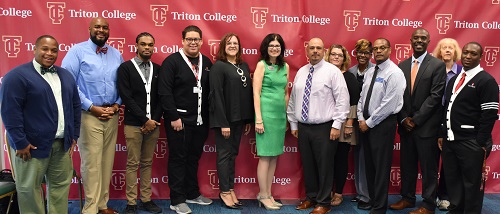 Minority male students enrolled at several Chicagoland community colleges will soon have access to increased resources to help them keep their goals on track and achieve academic and professional success.
Triton College recently received a $500,000 grant from the Educational Credit Management Corporation (ECMC) Foundation to broaden its TRIUMPH (Transforming and Inspiring Undergraduate Men Pursuing Higher Education) Program, which provides resources and support to minority male students. The five-year grant also allows Triton to take the lead on developing similar support programs at other regional Hispanic and minority-serving institutions.
On Sept. 18, leaders from Waubonsee Community College, Elgin Community College and Malcolm X College gathered at Triton to lay the groundwork for the expansion of the TRIUMPH Program onto their campuses.
TRIUMPH addresses the significant opportunity and achievement gap for minority males who are the first in their family and often first in their community to pursue higher education.
"The ultimate goal of TRIUMPH is to empower our students to not only succeed at the community college but to move on into the workforce and into four-year institutions with a high degree of confidence," said Deborah Baness King, Triton College interim dean of Student Services.
TRIUMPH began at Triton in 2014 with 25 students participating. There are currently about 130 students enrolled in the program. TRIUMPH scholars are paired with male staff mentors who help them realize and understand their potential and goals despite perceived social and cultural barriers. Graduates leave Triton with a deeper understanding of emotion management, conflict resolution, time management, financial literacy and other skills. The original 25-member cohort experienced a remarkable three-year graduation rate of 90 percent and an 85 percent transfer rate to four-year colleges and universities.
Isaiah Negron of Schiller Park is currently a TRIUMPH scholar. He and several peers shared how the support they receive through the program is helping them find success.
"Over the past year and a half or so, I've gotten to develop new relationships with other students – and through that it allowed me to become confident in who I am and in my purpose, and it allowed me to step into what I've been called to do," Negron told the group.
The goal of the program expansion is to serve 1,500 men of color across all participating institutions by the end of the five-year grant period – increasing retention and completion/transfer rates among those students.
For more information on Triton's TRIUMPH Program, visit triton.edu.