November 22, 2017
Award-winning Design Earns Triton Architecture Instructor a Trip to Paris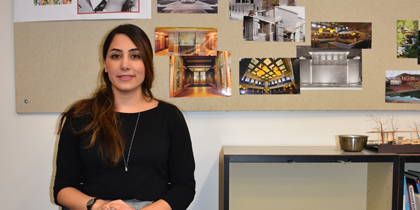 Congratulations to adjunct Architecture faculty member Mina Rezaeian who received the Louis Vuitton Spark Award for "Threads of the City," a design proposal she collaborated on while studying architecture at the Illinois Institute of Technology. "Threads of the City" proposed to create a series of public spaces for pedestrians who move along Michigan Avenue in Chicago and its surrounding areas.
"My teammate Maria Del Olmo Gomez and I came to the conclusion that even though the Magnificent Mile has a lot of attractions for tourists and other users, people are traveling to destinations and not really enjoying the walk from one point to another," Ms. Rezaeian said. "So in our project we studied what could be added to the street that can attract more people and give them a new experience."
As part of her prize, Ms. Rezaeian traveled to Paris, France, in October 2017, where she met with the architecture team responsible for the designs of Louis Vuitton boutiques around the world. Additionally, her work was recently displayed as part of an exhibit in downtown Chicago.
Ms. Rezaeian has taught AutoCAD, 3D Computer Modeling and Architecture Portfolio classes at Triton. In addition to continuing her career as an educator, her future plans include opening an architecture firm specializing in the design of schools and academic institutions in underdeveloped countries.
Ms. Rezaeian is originally from Tehran, Iran, and came to the United States in 2009. Before studying at IIT, Ms. Rezaeian earned her associate degree from Triton College. She credits fellow members of Triton's Architecture Department for helping her adapt to American culture as well as inspire her to pursue her educational and career goals.
Triton College offers Architecture and Independent Building Contractor associate degree programs, as well as Architecture Technology, Architecture Design and Building Information Modeling certificate programs.
For more information on Triton College's Architecture programs, contact department coordinator Frances Figg at (708) 437-6915, Ext. 3129, or email francesfigg@triton.edu.