August 8, 2018
Families Line Up for School Supplies at Triton's First-ever Backpack Give Back Resource Fair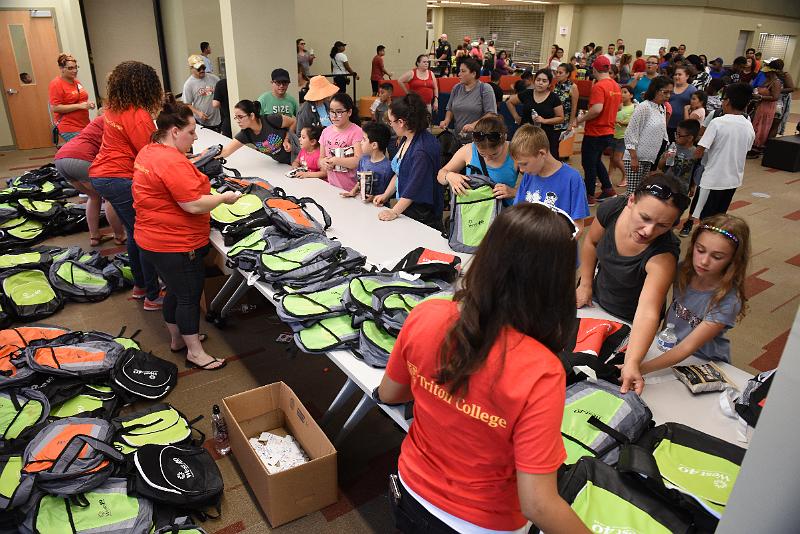 Students from throughout the area will head back to school better prepared for success after receiving backpacks and school supplies at Triton College's first-ever Backpack Give Back Resource Fair.
Backpack Give Back was organized in partnership with West 40 Intermediate Service Center #2. The fair brought more than 1,500 people to Triton's campus, many of whom lined up well ahead of the event's start time.
"The turnout at the event is a clear indication of the need for resources that exists for a great number of families. I am pleased that we were able to support so many students to start their school year on the right track and look forward to continuing to serve families from local communities," said Triton College President Mary-Rita Moore.
"Partnering with Triton was a great opportunity to reach out, and we're obviously meeting a need," said Dr. Mark Klaisner, executive director of West 40 ISC #2. "We're always looking for ways to reach out and help, and keep our kids safe. We always talk about safety, relationships and fun. This event is safety, relationships and fun."
In addition to the backpacks and school supplies free of charge, event attendees received complimentary haircuts courtesy of Sport Clips Oak Park. Several community organizations and businesses provided information and resources at the fair including Access to Care, Chicago Coalition for the Homeless, River Grove Public Library, Infant Welfare Society Children's Clinic, A Greater Good Foundation, Pillars Community Health, The Resurrection Project, US Bank, Veterans Park District and representatives from various Triton College programs and departments.
In preparation of the event, donation boxes were set up throughout Triton College's campus as well as at businesses throughout communities in Triton's district. Community members generously donated backpacks, notebooks, pens, pencils, folders, scissors and other necessary school supplies. Prior to the fair, volunteers from Triton and West 40 held a two-day 'packing party' to load all of the supplies into backpacks.
Major sponsors for the event included: Jimmy Johns; R&M Specialties, LTD.; The Kids in Need Foundation; Walgreens; Impact; Horace Mann; Smore; and UTurn Covenant Church.