November 20, 2017
Stevenson Middle School 7th Grader Selected to Serve as Triton's President for a Day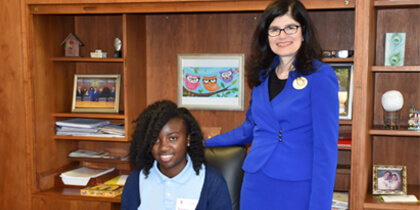 Qualities of inspiring role models and leaders was the theme for Triton College's President for a Day challenge, which brought seventh grade students from District 89 schools to campus for a day of activities during the 2017-2018 school year.

Prior to their visit, students participated in an essay contest in which they wrote about leaders whom they admired. Stevenson Middle School (Melrose Park) student Shantiah Watt was selected as the winner, earning her the honor of President for a Day. She chose NASA mathematician and physicist Katherine Johnson as the subject for her essay.

"I wrote about Katherine Johnson because she is very similar to me," Shantiah said. "She is an African American woman good with Science and Math, and she is a great role model."

The students visited several areas of campus during their visit, including the newly renovated East Campus Greenhouse and the Engineering Technology lab. Triton faculty and staff engaged the group in discussions on sustainable gardening and sustainable building practices, highlighting how these concepts are present in their everyday lives.

The group also enjoyed lunch with Triton College President Mary-Rita Moore, during which they discussed qualities that make good leaders and role models, highlighting the subjects of their essays.

"The students of District 89 schools were thoughtful and engaging, and I truly enjoyed spending time with them," President Moore said. "I am confident that they will succeed in any path they choose, and I hope to see them back on campus as visitors and students in the near future."

For Shantiah however, the day didn't end there. As part of her presidential duties, she reviewed college materials and offered positive input. She also provided feedback about programs currently under development at Triton that will provide additional support to students.

"It was a lot of responsibility, and I was into that," Shantiah said of her experience. "There were also fun parts."

The President for a Day challenge is part of the Office of the President Initiatives aimed to strengthen relationships with students and community members from within the Triton College district. We look forward to expanding the initiative to include other schools and organizations within Triton's district.