October 2, 2017
Student Success Shines During Adult Education and Family Literacy Week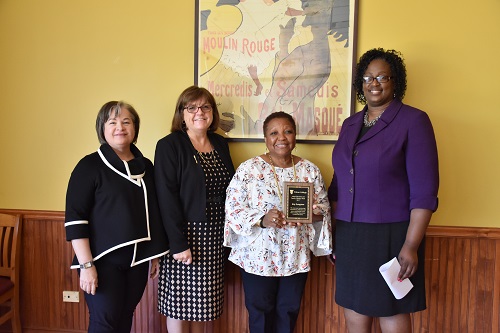 Triton College joined schools and organizations from around the country in celebrating National Adult Education and Family Literacy Week, which took place Sept. 24-30. The goal of the initiative is to heighten public awareness, strengthen alliances, leverage resources, and increase understanding of the vital role that adult education and family literacy plays in our nation's well-being.
Several on-campus events highlighted the success of students enrolled in programs offered through Triton's Adult Education Department including English as a Second Language (ESL), High School Equivalency (formerly GED) and U.S. Citizenship.
During Triton's AEFL Week kickoff on Sept. 25, Jasmine Roman told a crowd of students, staff and administrators how Triton helped her get her life back on track after she dropped out of high school at the age of 16.
"I never gave up on going to school," Roman told the group. "I want to be a trauma nurse and thanks to the Adult Education Department I can with the help of my scholarship and hard work. If I can do it then you can too. Never give up on your hopes and dreams."
Triton's Dean of Adult Education Jacqueline Lynch expressed gratitude to the college for the support they've shown over the years.
"I have never worked in an institution where adult education is so valued and so supported," Lynch said. "Even when there was no state budget for adult education, the college continued to support adult education because of the value that they see in it."
Five ESL students attended the monthly Triton College Board of Trustees meeting on Sept. 26, each sharing a story of how Triton helped them improve their communication skills, which in turn afforded them greater educational, professional and personal opportunities. The group presented handwritten thank you notes to board members in appreciation of their support.
During an event on Sept. 28, retired Triton College administrator, Kay Langston, was honored for her contributions to the Adult Education Department during her career. Jennifer Foster, Illinois Community College Board deputy director of Adult Education and Workforce presented her a plaque commemorating her accomplishments.
"Kay held several positions during her career at Triton, but perhaps her greatest contribution was touching so many lives in a positive way during her time in the Adult Education Department," Foster said. "Colleagues who had the pleasure of working with Kay describe her as a 'role model' and a 'great supporter of students,' and her legacy lives on at Triton College through the Kay Langston Scholarship.
According to Proliteracy, the nation's largest adult literacy and basic education membership organization, there are more than 36 million American adults who struggle to read, write or use technology above a third-grade level. The organization's research shows that children of parents with low literacy skills are likely to struggle in school, display behavioral problems, develop health problems and have difficulties finding employment.
For more information about programs and services available through Triton College's Department of Adult Education, visit www.triton.edu/adult-education, or call (708) 437-6915, Ext. 3259 or 3513.