May 24, 2018
Students Celebrate Their Success at Triton's Annual Commencement Ceremony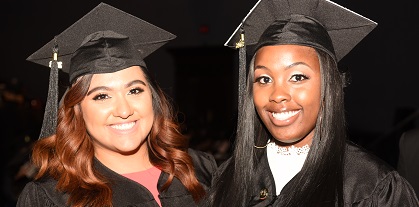 Surrounded by family and friends, more than 450 members of Triton College's graduating class of 2018 took part in the 52nd Annual Commencement Ceremony at Rosemont Theatre on Saturday, May 19.
Triton President Mary-Rita Moore addressed the graduates during the ceremony, paying tribute to the sacrifices and commitment that the graduates made while working to achieve their academic success.
"You've overcome obstacles in pursuit of an education, whether it was finances, work or home responsibilities," President Moore told the graduates. "You have remained focused on the finish line to achieving success that will make a positive impact on your lives, you are truly champions."
Triton College Student Association president and graduate Lorenz Cagbabanua delivered the student reflection.
"We may not know what the future has in store, but the lessons we've learned at Triton will stay with us forever," said Cagbabanua, who will next study biomedical engineering at Illinois Institute of Technology.
A touching video saluting the class of 2018 conjured up both tears and laughter from the graduates and the crowd. The video captured students reflecting on their journeys as Triton students, recalling their feelings on their first day of class, their favorite events and hardest classes.
All told, more than 1,400 Triton students received degrees or certificates this school year. Some will go on to study at four-year colleges or universities, while others look forward to entering the workforce.
One of the graduates, Maya Jackson of Oak Park, earned an associate degree in biological sciences. She has enlisted in the United States Navy and hopes to put her education to use as a hospital corpsman. She says she feels her experience at Triton College and the relationships she's built have helped prepare her to succeed in her next journey.
"I loved it, I remember every single one of my teachers. My favorite one of all time – Beth Cliffel (biology professor) – she saved my life. She was one of the references I used when I joined the Navy," Jackson said.
For Yurisleidis De La Rosa and Elianne Perez of Melrose Park, commencement was a family affair. The sisters-in-law supported each other as they pursued degrees in business management and ophthalmic technology respectively. Sharing the stage on their graduation day made the event extra special.
"I have two kids, so I wanted to do something for them, that's why I came back to college," said Perez, who has already accepted a job to work as an ophthalmic technician at a nearby hospital. "I really liked Triton, the people and classes were great."
Best wishes to all of the graduates as they embark on their next academic or professional adventure. Click here to see pictures from the 52nd Annual Commencement Ceremony.