September 20, 2017
Triton College Completes Successful Hurricane Relief Supply Drive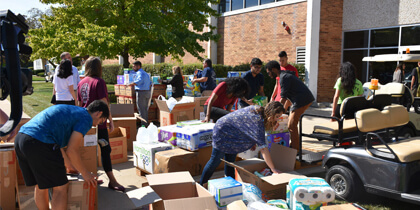 Even though Triton College's campus is more than a thousand miles from both Houston and Florida, Triton students knew there was something they could do to help victims of Hurricanes Harvey and Irma.
And help they did.
Members of the Triton College Student Association led a successful hurricane relief supply drive that netted a large haul of bottled water, diapers, cleaning supplies, toiletries and other items. The much needed supplies are sure to provide comfort to some of the hundreds of thousands of people impacted by the catastrophic storms.
"Triton College is a place of compassion, and we saw there was devastation, so we did everything in our power to help out," said Gianna Colella of Melrose Park, a member of the Triton College Student Association. "We made flyers, spread the word and encouraged our friends and classmates to donate."
Following the collection drive, Colella joined students and staff in preparing items to be loaded onto a semi-trailer and shipped to some of the hardest hit areas.
Triton College President Mary-Rita Moore was among those who helped pack boxes and shrink wrap them onto pallets.
"I am proud of our students and campus community for stepping up during this time of need," President Moore said. "This sense of caring has become part of the identity of our student body and a big part of the Triton College educational experience."
Triton's hurricane relief supply drive was truly a community-wide effort. Residents, local businesses and other organizations donated supplies and services that contributed to the success of the project.
Elk Grove, Ill.-based Hollander Storage & Moving Co. donated transportation services and the United Way is distributing the collected items to people in need.
"Like everybody else, we're watching the pictures and we feel thankful for ourselves but we also feel very helpless, like 'How can you help and how can you make a difference?'" Dawn Hasil, vice president of Hollander Storage & Moving Co. told the Chicago Tribune before the collection drive began. "We thought that this is something we can do."
Local businesses including The Sugar Beet Food Co-op (Oak Park), Costco (Melrose Park), Fresh Thyme Farmers Market (River Forest), Home Depot (Northlake), Gambino's Fresh Market (Elmwood Park) and Jewel (Melrose Park) donated items to the relief effort. The Triton College Foundation also accepted donations which were used to purchase additional supplies.
"It makes me feel great to know we were able to make a difference," Colella said.