July 12, 2018
Triton College Memorializes Longtime Employee with Campus Tree Planting

About 100 people gathered at Triton College to pay tribute to former student and longtime employee Melissa 'Missy' Cabrera during a tree planting and dedication ceremony July 11. Ms. Cabrera, who served primarily as secretary of Triton's Athletic and Science Departments throughout her more than 30-year career, passed away earlier this year.
A serviceberry tree (Amelanchier laevis) was planted near the prairie garden outside of the D Building during a short ceremony attended by Triton students, faculty, staff and members of Ms. Cabrera's family. A plaque is located at the base of tree, recognizing her years of service to Triton College and her support of the Science Department and the college's sustainability efforts.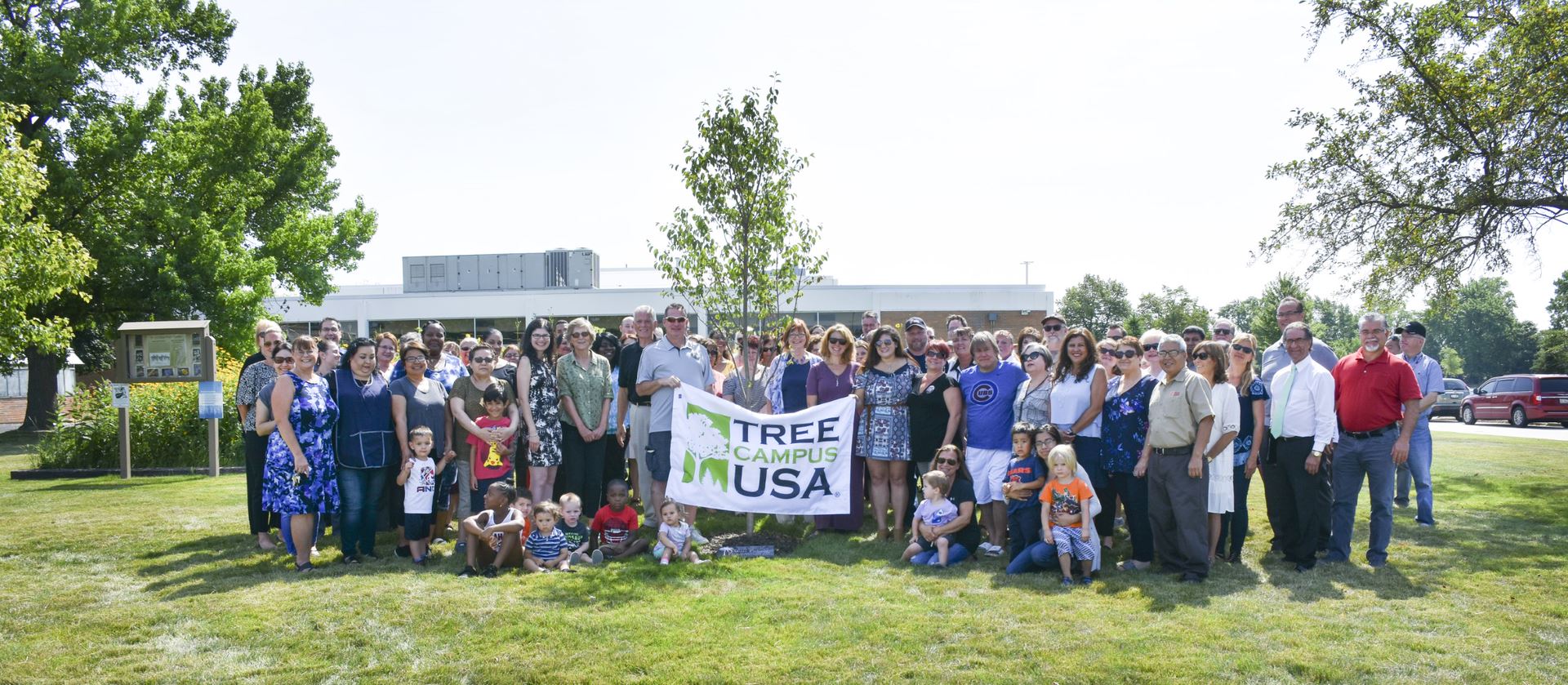 "Everyone who knew Missy loved her," said Triton College Creative Services Associate Renee Swanberg, a friend and colleague of Ms. Cabrera. "Her dedication to the college and our students was unwavering. As president of Triton's Classified Association, she was a tireless advocate for her colleagues. She is truly missed."
A yearly tree planting is also a requirement for Triton to maintain its status as a Tree Campus USA college, which Triton was first granted by the Arbor Day Foundation in 2016.
Triton College Sustainability Center Coordinator Adrian Fisher oversees Triton's involvement with the Tree Campus USA project with the help of Triton's Greening the Campus Committee and the Tree Advisory Committee. The latter includes student, faculty and staff representatives, along with a tree expert from the Morton Arboretum in Lisle, Ill.
"Missy Cabrera supported and often aided the efforts of the Greening the Campus Committee and campus sustainability initiatives in general," Fisher said. "It is fitting that planting a memorial tree in her name aligns with Triton's Tree Campus USA initiative, a program that helps further the college's sustainability goals."
In 2016, a Nannyberry Viburnum tree was planted near Triton's Prairie Garden, followed by a Burr Oak in 2017. In addition to the annual tree planting, Tree Campus USA requirements include creating a campus tree-care plan, dedicating annual expenditures for its tree program, holding an Arbor Day observance, and creating and sponsoring tree-related student service learning projects.
Tree Campus USA is a national program created in 2008 by the Arbor Day Foundation to honor colleges and universities for engaging staff and students in conservation goals. The Arbor Day Foundation has helped campuses throughout the country plant thousands of trees. More information about Triton's sustainability efforts is available at https://www.triton.edu/campus/sustainability/.