May 14, 2018
Triton and Concordia-Chicago Create Sports and Recreation Management Degree Pathway Program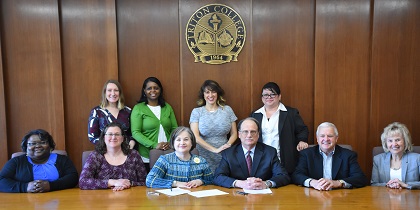 Students pursuing careers in sports and recreation management can earn their bachelor's degree in four years thanks to a new transfer program created by Triton College and Concordia University Chicago (CUC). Beginning in fall 2018, the 3 + 1 agreement will allow Triton students to easily transfer credits toward earning a Bachelor of Arts in Sports and Recreation Management from CUC.
The program utilizes three years of Triton coursework followed by one year of Concordia-Chicago coursework. The final year of the program is taught completely online by Concordia-Chicago's faculty, and is offered at a significantly reduced tuition rate.
Under the agreement, students enrolled at Triton College must complete an Associate in Science degree with a minimum 2.0 grade-point average. Students must also take an additional 30 credit hours of college-level coursework (as specified in an academic plan) earning a grade of B or higher in each course. Following completion of these requirements, students will enter their final year's study through Concordia-Chicago to complete a bachelor's degree online. Both institutions will provide advisors to assist students in planning their programs of study.
"I am extremely pleased to further strengthen the partnership between Triton College and Concordia University Chicago—which will further allow students from throughout the area to pursue their interests in the field of sports and recreation management," said Triton College President Mary-Rita Moore. "This spirit of collaboration will result in a convenient, affordable and streamlined path to a degree."
"We recognize the need to provide innovative educational options to today's students," said Dr. O. John Zillman, Senior Vice President of Academic Affairs at Concordia-Chicago. "We are proud to partner with Triton College to offer an option that is flexible and affordable while maintaining high academic quality."
This is the latest in a series of transfer agreements between Triton and CUC. In 2015, the two institutions collaborated on agreements creating a seamless pathway for students seeking bachelor's degrees in elementary or early childhood education, as well as a separate agreement for students pursuing degrees in business administration.
For more information on the 3 + 1 Sports and Recreation Management program, contact Dr. Julianne Murphy via email at juliannemurphy@triton.edu, Triton's Health, Sport & Exercise Science Department at (708) 437-6915, Ext. 3358, or CUC's Director of ADP Admission at tina.lilly@cuchicago.edu.