December 21, 2018
Triton Emergency Medical Technology Program Participants Honored at Board of Trustees Meeting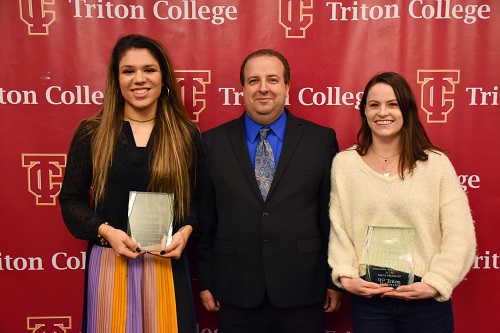 Congratulations to the newest recipients of Triton College's Daniel Johnson EMT-B Excellence Awards.
Emergency Medical Technology Program coordinator Bill Justiz presented the awards for the 2017-2018 school year during the December Triton College Board of Trustees monthly board meeting.
For the fall 2017 semester, the award was presented to Veronica Minor of River Forest. Veronica earned a bachelor's degree from Loyola University prior to enrolling in Triton's EMT Program. She currently works in the Emergency Department at Rush Oak Park Hospital and serves as a tutor in Triton's EMT Program. She plans to pursue a career as a medical doctor.
"What I loved most about the EMT Program was all of the instructors," Veronica said. "They have such a passion for what they do and want to give us the best possible education."
For the spring 2018 semester, Kayla Musial, of Hillside, received the award. Kayla is a 2017 graduate of Proviso Math & Science Academy and is currently enrolled in Triton's Diagnostic Medical Sonography Program. She plans to pursue a career as a sonographer.
"I appreciate the skills that the (EMT) program has taught me," Kayla said. "The experience that I have gained through this program will be a part of my future, whether it is in my career or day-to-day life."
The award is named for former Triton College EMT student and U.S. Air Force Senior Airman Daniel Johnson, who was killed in 2010 while serving in Afghanistan.