May 31, 2018
Triton's Adult Ed Programs Guide Students on their Paths to Success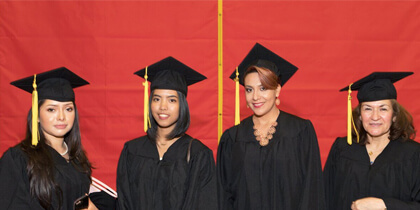 Triton College honored the hard work, determination and accomplishments of a special group of students during the Adult Education Completion and Commencement Ceremony on May 24.
The honorees included 20 Board of Trustee Scholarship recipients, 18 National Adult Education Honors Society inductees, 11 previous Westlake Health Foundation Scholarship recipients, three new American citizens, 33 High School Equivalency (GED) recipients and more than 140 English as a Second Language (ESL) Program completers,. In total, students enrolled in Triton's Adult Ed. Programs hailed from 28 countries, and spoke 18 different native languages.
Brenda Morales, who first enrolled in Triton College's adult education program in 2013, shared her inspiring story as the keynote speaker at the ceremony. Morales is a single mother and domestic violence survivor who came to the United States from her native Mexico in 2004. She completed the ESL Program in 2015 and the High School Equivalency Program in 2017.
"The day that I received my GED changed my life. Because that day I realized that there is a world full of opportunities for all of us out there," Morales told the graduates. "I invite all of the GED graduates tonight to continue growing and take advantage of all of the opportunities that Triton College offers to the graduates to continue with their education."
In fact, Morales is following her own advice. She was selected as a recipient of both the Board of Trustees Scholarship and the Westlake Scholarship, and plans to enroll in Triton's Nursing Program.
The Adult Education Department class of 2018 was filled with students who, like Morales, came to America in search of a better life. Others turned to Triton to help them get back on a path to achieving their academic goals.
Solmiia Iarema was among this year's ESL Program completers and was one of 18 students who earned induction into the National Adult Education Honor Society. She came to the United States from her home country of Ukraine in 2015 with a degree in medicine, but limited English skills.
"I improved my English at Triton College and was able to get the job that I wanted," Iarema said. "I improved my grammar, I learned to speak the language well and the teachers helped a lot."
Iarema currently works as a medical assistant at an area hospital and plans to obtain licensure to begin practicing as a physician.
Triton's Adult Education programs are available to students at no or minimal cost. Students have access to a variety of support services, including completion and transition specialists who help keep students on their chosen path toward enrolling as a credit student at Triton College or entering the workforce.
For more information on Triton College's Adult Education programs, call(708) 456-0300, Ext. 3259 or 3513, or visit the Adult Education Department located in the A Building, Room A-203.