April 9, 2018
Triton Receives $500K Grant to Support Male Students of Color through TRIUMPH Program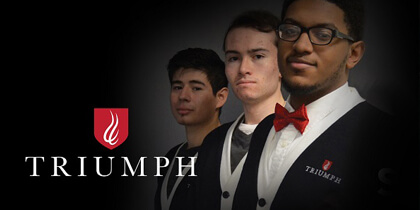 A half-million dollar grant will allow Triton College to take the lead on developing support programs for minority male college students throughout Chicagoland.
The $500,000 award comes from the Educational Credit Management Corporation (ECMC) Foundation. The grant will support a five-year effort to broaden the TRIUMPH (Triton Undergraduate Men Pursuing Higher Education) Program, and develop similar support programs at other regional Hispanic- and minority-serving institutions.
Recent national research finds that two-thirds of minority males who start college as freshmen do not graduate, worst among all genders and ethnic groups in higher education.
Through the support of the ECMC Foundation, TRIUMPH will expand to provide first-year and transitional support services for all men of color at Triton College. The grant will also allow Triton to work with leaders of three neighboring community colleges to replicate the program.
TRIUMPH, which was created to address the significant opportunity gap for minority males who are the first in their family and often first in their community to pursue higher education.
Students enrolled in TRIUMPH are paired with male staff mentors who help them realize and understand their potential and goals despite perceived social and cultural barriers. TRIUMPH Scholars leave Triton with a deeper understanding of emotion management, conflict resolution, time management, financial literacy and other skills. The program provides access to increased student services, academic support, service learning projects and other resources designed to increase the graduation and transfer rates among minority male students.
There are currently 150 students taking advantage of TRIUMPH support at Triton College – which is helping them stay on track to complete their associate degree or transfer to a four-year university. During the five-year grant program, the initiative will reach more than 3,000 students.
Triton College and the ECMC Foundation have a shared commitment to fostering college success. The project aligns with the ECMC Foundation's mission to inspire and facilitate improvements that affect educational outcomes for underserved populations through evidence-based innovations. TRIUMPH's expansion utilizes predictive analytics to determine potential risk factors for minority male college students and works to mitigate those risks.
In 2011, Triton College was designated as a Hispanic Serving Institution (HIS) by the United States Department of Education. To be designated as an HSI, a college or university must serve a minimum Hispanic student population of 25 percent. Today, Triton serves a 42 percent Hispanic student population.
For more information on Triton College's TRIUMPH Program, call (708) 437-6915, Ext. 3850, or email studentlife@triton.edu.