May 9, 2018
Welding Certificate Program will Provide Spark for Students Seeking Manufacturing Jobs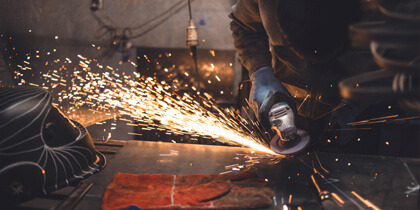 As a generation of manufacturing professionals heads towards retirement – local employers are looking to fill a number of jobs with workers who are trained and ready to hit the ground running.
That's where Triton College's new Welding Certificate Program comes in.
Starting this fall, students can earn a welding certificate in just two semesters, during which they'll learn valuable welding skills including ARC, MIG and TIG welding. The classes will be taught by our experienced Engineering Technology Department faculty in a shop-like setting, featuring the latest welding equipment and technology.
"This is a good job that somebody can get without making a four-year commitment to college," said Dr. Chuck Bohleke, Triton College dean of Business and Technology. "For people who are looking to upgrade skills and get a better job, this program would be perfect as well."
Throughout the program, students will also learn other fabrication processes to help them stand out to employers. Classes on creating and reading blueprints and CAD are included in the program as well. Graduates will be qualified for employment as entry-level welders, solderers, braziers and apprentice-level industrial maintenance mechanics among other positions.
While developing this Welding Certificate Program, Triton sought the input of manufacturers throughout the area to ensure students leave with the skills necessary to succeed in the workforce.
"It will be immensely beneficial for us to have this kind of welding education resource at our disposal," one local manufacturer wrote in a letter of support of the Welding Certificate Program.
According to the Bureau of Labor Statistics, welders, cutters, solderers and braziers in Illinois earned an average salary of more than $41,000 in 2017. Jobs in welding and related fields are expected to grow by 6 percent nationally by 2026.
Click here view welding courses.
For more information on Triton College's Welding Certificate Program, contact Antigone Sharris at (708) 456-0300, Ext. 3622.