May 29, 2018
We Need Your Help! Backpack and School Supply Donation Drive Starts May 29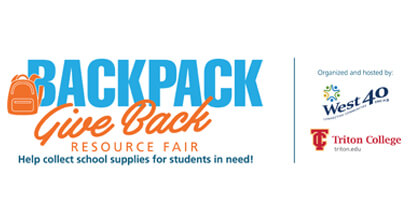 Triton College is proud to partner with West 40 ISC to present the first-ever Backpack Give Back Resource Fair on Aug. 4.
To help us serve as many students as possible, we are asking community members to donate backpacks and school supplies. Donations can be dropped off at boxes set up throughout campus.
Donation items needed include:
Standard sized neutral colored backpacks (no designs preferred)
Folders (two pockets, solid colors preferred)
Pack of loose leaf/filler paper (150/200 count, wide rule)
Black pens
Pair of scissors
Glue sticks
Rulers
Pack of crayons (24-count/Crayola preferred)
Gift cards to Walmart or Target for purchasing school supplies items (Please email Denise Jones at denisejones@triton.edu to arrange drop off of a gift card)
Check Triton.edu in the coming weeks for more details on the first-ever Backpack Giveback Resource Fair.