June 12, 2018
Learn about Triton's Career Programs During 'Career Connect' – June 21.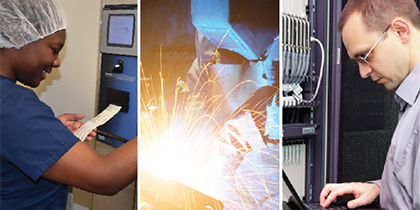 Current and prospective students are invited to visit Triton College during a special event on June 21, where they'll learn more about our many Career and Technical Education Programs. These high quality programs will prepare you to succeed as a skilled trade worker in as little as little as ONE semester.
'Career Connect' is Thursday, June 21, from 4-7 p.m. in the Student Center Cafeteria (B Building), located on the west side of Triton's campus, 2000 Fifth Ave., River Grove.
You will learn from academic program representatives about in-demand careers that can lead to rewarding employment opportunities. Career Services and Financial Aid experts will also be available to assist you.
Learn about Career and Technical Education programs including:
Engineering Technology, Welding, Sterile Processing, Computer Science, Healthcare, Real Estate, and many more.
To register for this event, please visit www.triton.edu/careerconnect.