September 24, 2018
Fall Into Fun at Triton's Fall Family Fun Fest – Sept. 29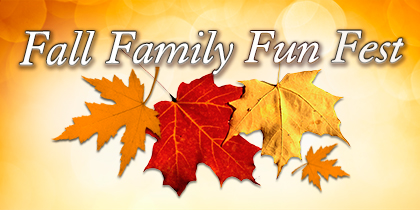 A chill in the air, leaves changing colors and kids heading back to school are sure signs that fall is upon us. Celebrate this wonderful time of year with an action packed day of fun and activities at Triton College's Fall Family Fun Fest.
The annual event is Saturday, Sept. 29, from 10 a.m.-2 p.m., in Triton's Botanical Gardens located on the east side of campus, 2000 Fifth Ave., in River Grove.

The fun-filled event includes games, activities and exhibits designed for adults and children of all ages. Get creative at the noodle necklace and mask-making stations and show off your skills with the jumbo ring toss, bucket toss and youth obstacle course.

The Great Triton Treasure Hunt encourages families to work together to figure out clues that take them to various areas around Triton's campus. Each child who completes the challenge and visits all locations will receive multiple prizes. "Operation Lifesaver" offers an inside look at how police officers protect us and the fire safety exhibit will provide some great tips for keeping the family out of harm's way.

Be sure to check out the Fun with Legos™ exhibit, play the 'Mexican Lottery' and commemorate the wonderful event with the family photo booth.

Food prepared by students of Triton's Hospitality Program will be available for purchase at the event. You can also satisfy your sweet tooth at the sugar cookie decorating station.
The event is FREE to attend and open to the community.

For more information, call (708) 456-0300, Ext. 3674.