November 1, 2018
Triton Executive Series Features Leading Ethics and Fraud Researcher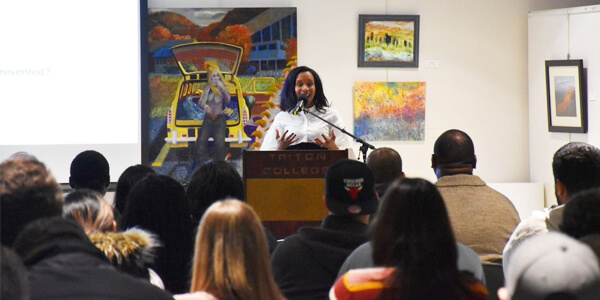 The rationalization of illegal and unethical behavior by white-collar criminals was the theme of Dr. Kelly Richmond Pope's presentation during the latest installment of the Triton College School of Business' Executive Series lecture.
Dr. Pope is an award-winning documentary filmmaker and associate professor of accounting at DePaul University. Her research focuses on organizational misconduct, ethics and fraud, and how organizations confront those issues. She spoke to a group of about 100 Triton College business and accounting students during the event on Oct. 30.
Among the examples Dr. Pope used included an embezzlement scheme hatched by a payroll employee in order to pay for his 8-year-old daughter's emergency surgery. The crime initially went undetected, emboldening the employee to continue to embezzle company funds. Eventually the employee was caught, convicted and sentenced to federal prison.
"Can you empathize with how he ended up here?" Dr. Pope asked the audience. "He didn't set out to steal the money so that he could buy a motorcycle, he had a dilemma."
To prevent such crimes and consequences, Dr. Pope emphasized the need for greater institutional controls within businesses and a willingness for other employees to act as whistleblowers when they suspect fraud or other illegal or unethical activity.
She used an example from her most recent documentary, All the Queen's Horses, to demonstrate her point. The film examines the largest municipal fraud in U.S. history, which occurred over a two-decade span in a small Illinois town. A whistleblower notified federal authorities of accounting irregularities, which led to the unearthing of a $53 million embezzlement scheme.
"Always pay attention to red flags, train frequently and cherish culture if it's good, but try to change it if it's bad," Dr. Pope told the group.
Trenzel Allen, a sophomore studying business management at Triton, attended the Executive Series. He said the presentation shined a new light on many of the themes covered in his classes.
"It might look appealing, but in the end, you will pay consequences," Allen said. "What's done behind closed doors will always come to the light."
The Executive Series was launched in 2013 to inspire and encourage individuals to think about academic and career paths that can help prepare them to succeed in the global workforce. Past Executive Series speakers include former U.S. Sen. Mark Kirk, John Marshall Law School professor Michael Schlesinger, and former Chicago Bull Bob Love.
"The Executive Series really has grown to be a significant part of our business curriculum and what we can offer to our students," said Triton College School of Business coordinator Dr. William Griffin.
Triton's School of Business offers associate degree programs in Accounting and Business Administration and Business Management. Transfer agreements for business students are in place with several nearby colleges and universities, including Concordia University-Chicago and Elmhurst College. These agreements provide students with a guaranteed path to a bachelor's degree once they leave Triton.
For more information about Triton's School of Business, call (708) 456-0300, Ext. 3579, or email williamgriffin@triton.edu.