November 7, 2018
Win Great Prizes at Triton College Open House – Nov. 29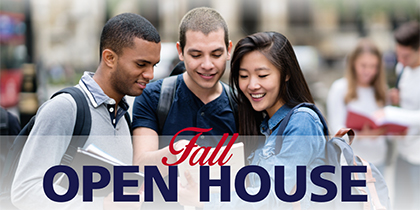 Future students and community members are invited to visit our beautiful campus and learn about all of the things Triton College has to offer during our fall open house.
The open house is Thursday, Nov. 29, from 4-7 p.m., in the Triton College Student Center, located on the west side of campus, 2000 Fifth Ave., River Grove.
Be sure to register in advance at www.triton.edu/openhouse to be entered into a drawing to win a free three-credit hour course.
At the open house, prospective students and families can tour campus, featuring recently updated facilities utilizing the latest equipment and technology. Triton's helpful staff will be on-hand at the open house to answer questions regarding financial aid, admissions, scholarship opportunities and more.
There truly is something for everyone at Triton. In addition to our more than 150 degree and certificate programs, Adult Education courses are available at a minimal cost, helping students to improve their English skills or earn a high school equivalency diploma. Additionally, Triton's award-winning School of Continuing Education offers classes to suit a variety of interests for learners of all ages.
Registration is encouraged but not required to attend the open house. For more information, call (708) 437-6915, Ext. 3130, or register at www.triton.edu/openhouse.