February 28, 2019
Students celebrate National TRIO Day at Triton College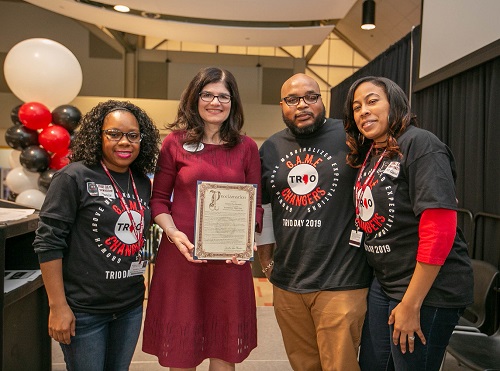 Nearly 500 students from throughout Chicagoland and Northern Illinois attended National TRIO Day at Triton College on Feb. 23, urging continued support for the federal student outreach program.
Since 1986, National TRIO Day has celebrated TRIO's advocacy of educational equity and opportunity for all students, regardless of racial and economic background. Triton's event was one of many held throughout the nation, highlighting the positive impact that TRIO programs have had by addressing social, economic and cultural barriers to education for students from underserved backgrounds. The theme for Triton's event was G.A.M.E. (Growth Above Marginalized Expectations) Changers.
"Triton College joins with other institutions of higher education across the country to host this day of celebration, reflection and action," Triton College President Mary-Rita Moore told TRIO Day attendees during her welcome remarks. "I'm inspired by your dedication to improve your lives through education."
During the event, students representing 22 TRIO programs participated in interactive workshops on topics including financial literacy, leadership and career exploration – all designed to help them blaze a path toward academic success.
Suriya Malivarn, a high school junior who attended workshops on writing scholarship essays, said, "It was very engaging. I learned the importance of using specifics and more details in scholarships."
Ron Lewis of The Lewis Influence delivered an impassioned keynote address, urging students to stay determined to achieve success and overcome any obstacles they may face.
"The dream is free, hustle is sold separately," Lewis told the group.
"I liked that he talked like a teenager, he was very relatable," said Zaniya Taylor, a high school junior. "It inspired me to keep believing in myself that I will graduate."
The students wrote postcards to their congressional leaders, explaining how TRIO helped them stay on track toward reaching their academic goals and urging them to continue supporting the programs.
A proclamation sponsored by state Sen. Don Harmon was read during the event, recognizing Feb. 23, 2019, as TRIO Day in Illinois.
"As a former TRIO Program participant, I know firsthand the impact that these support services have on students as they pursue their academic goals," said Denise Jones, Triton College's TRIO Program director and event co-chair. "It's incredible to see so many students here today, taking advantage of these incredible programs throughout Illinois."
TRIO programs currently serve more than 800,000 students throughout the country from middle school through post-graduate study, providing academic tutoring, personal counseling, mentoring, financial guidance, and other supports necessary to promote college access, retention and graduation. TRIO students come from families that earn less than $36,000 a year and/or in which neither parent has earned a college degree.
Triton's TRIO Student Support Services (SSS) Program supports students through academic advising, personal and career mentoring, study tables, transfer guidance, workshops, cultural and educational activities, financial aid advisement and more.
For more information on the Triton College TRIO Student Support Services Program, visit triton.edu/students/trio or call (708) 456-0300, Ext. 3484.