July 26, 2018
Triton Honors Graduates of GM and ACDelco Automotive Program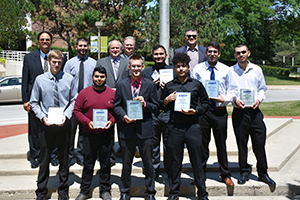 Graduates of Triton College's GM and ACDelco ASEP (Automotive Service Educational Program) class of 2018 are now on their way to a rewarding career in the automotive industry. Eight students completed the program this spring, which completed its 38th year at Triton. The graduates were honored during a recognition luncheon on July 25.
"All of you, the graduates, have the opportunity to be a leader," Dr. Chuck Bohleke, Triton College dean of Business and Technology, said during the ceremony. "You might be a leader at your dealership, you might be a leader in your community. It is an incredibly important aspect of today's business world as well as the education world."
Through GM and ACDelco ASEP, students are matched with GM dealerships or ACDelco professional service centers in the area. Throughout the two-year program, participants report to work with their sponsoring partner in addition to attending classes at Triton. Many students are then able to transition into permanent roles with their sponsoring dealership or service center.
The guest speaker at the luncheon was Frank Caira, GM ASEP program instructor and owner of Caira Automotive in Elmwood Park.
"Enjoy your new adventure, continue on," Caira said. "Remember how much you enjoy this, how gratifying it is to be able to say 'I fixed it.' (The customer) went to three other shops beforehand, but I'm the one who fixed it."
Christian Lopez of Berwyn received this year's Certified Service Leadership Award. He was sponsored by Caira Automotive, where he will continue to work.
"We got more hands on experience than I expected compared to other programs that I looked into," Lopez said. "Everything was great, meeting all the instructors and classmates, I made a lot of good friends during the program, and it was a unique experience and very cultivating."
Click here for more information on the GM and ACDelco ASEP partnership including how to apply, or contact the General Motors ASEP coordinator at (708) 456-0300, Ext. 3454.