August 21, 2019
Alumni Feature: Andre Lodree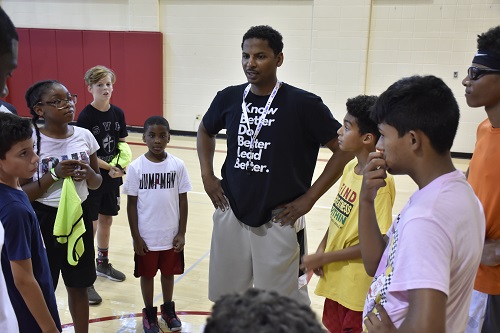 Pictured: Triton College alumni Andre Lodree (center) launched Four Point Play, Inc. basketball camps in 2013.
On a warm July afternoon, young athletes work on drills to improve their basketball skills. They travel up and down the court dribbling with both hands, getting into good defensive positions and protecting the ball from defenders on layup attempts. Whether they realize it or not, they're also working on developing skills that will help them become better leaders and individuals.
At the conclusion of the session, the group of a dozen campers gather at midcourt and put their hands together for a final cheer.
"Hard work!" they say in unison.
That's the message that Four Point Play Inc. basketball camp founder Andre Lodree strives to drive home to the young players.
"I want them to understand that it's going to take some work to be good at this," Lodree says. "It's not going to come easy."
Lodree, a father of four, certainly would know about hard work. As a prep student-athlete, his commute from Maywood to North Shore Country Day School in Winnetka consisted of riding two trains and a bus each day. His college commutes were considerably shorter. But his time as a student at Triton College still required a great amount of focus and discipline. He studied education and played a key role on the 2006 Trojans basketball team that finished eighth in the nation.
"It was a great experience. I made a couple of mistakes early on. I came to Triton and it was like a breath of fresh air, allowing me to rebuild and recover, and get that second chance," Lodree recalls of his time at Triton.
After Triton, he went on to earn a theology degree from Dominican University. After a few stints playing for semi-professional basketball teams, he began a career which mostly consisted of working for nonprofit organizations and mentoring youth. That's where the idea for Four Point Play Inc. was born. It's a nonprofit basketball camp that focuses as much on teaching life skills as it does basketball.
"It's definitely more than basketball," Lodree says of the camp that he launched in 2013. "We're all about building relationships with these kids. We want them to have someone that they can go to and talk to, and have someone who believes in them."
Throughout the summer, Lodree along with his wife Candace organize and host camps and clinics that serve kids throughout the west side of Chicago as well as the western suburbs including River Forest and Melrose Park. There's no qualifications on who can attend.
"We want the kid who thinks they can't play basketball at all and the kid who thinks they're the best basketball player. We want them all," he says.
For Lodree, it's all about giving back to the community. Basketball, which he says taught him many life lessons, is a perfect vessel for that.
"There's a lot of team building and things like that. You get confidence and perseverance and all those tools," he says.
Lodree also coaches Walther Christian Academy's J.V. basketball team. Additionally, he is a member of the Triton College Alumni Council. As one might imagine, balancing that demanding schedule takes a lot of hard work. For Lodree, it's worth it.