September 12, 2019
Apprenticeship opportunities allow Triton students to 'earn while they learn'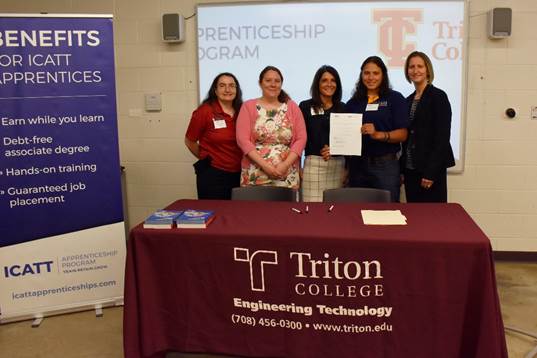 Thanks to an innovative partnership, Triton College students are starting the new semester with highly skilled jobs and zero college debt. Triton is partnering with the Industry Consortium for Advanced Technical Training (ICATT), a leading apprenticeship program provider in the Midwest.
In mid-August, students signed letters of intent to take part in apprenticeship programs. The apprenticeships allow them to learn valuable hands-on skills working at leading area manufacturers, all while earning a tuition-free associate degree aligned with their career goals.
Christina Schubert, a Melrose Park resident, is a student in Triton's Engineering Technology Program. She recently began her apprenticeship with BBS Automation Chicago, Inc., located in Bartlett, Ill. BBS provides custom automated machines for companies in the fields of medicine, automotive and solar. Gaining experience and earning money while she attends college is an opportunity that Schubert could not pass up.
"It's a hands-on look into the industry," she said. "I've been working with other mechanical designers and engineers. I'm actually using the tools and materials needed to build the machines."
Schubert is on track to earn an associate degree with a concentration on mechanical design. She plans to pursue a career designing and building automated machines. That may potentially include a transition into a permanent job at BBS Automation at the completion of her apprenticeship.
"Once she's done with her apprenticeship, Christina can decide what she really wants to do," said Celeste Michaelson, BBS Automation director of Human Resources. "She'll have the knowledge, choices and skills to create her own destiny."
ICATT started in Illinois in 2014 with one partner college, seven companies and four apprentices. Today, ICATT's partner list has expanded to include 15 colleges and 62 companies in six states. The goal of the program is to help close the skills gap among the incoming generation of manufacturing workers, and help employers find candidates with the right combination of knowledge, experience and capabilities to thrive in complex industries.
Triton has partnered with ICATT since 2016. Of the five female students who have served as apprentices through the ICATT Program, three have come from Triton.
"The value of this apprenticeship program is how it values the student experience," said Antigone Sharris, Triton College Engineering Technology Program faculty chairperson. "It's more than an internship. Students put their learning into practice in real-world situations using today's technology."
For more information on apprenticeship opportunities available through Triton College's ICATT partnership, contact Antigone Sharris at (773) 580-8807 or antigonesharris@triton.edu.