April 25, 2019
Get ready for college success with Triton's FREE iLaunch Summer Bridge Program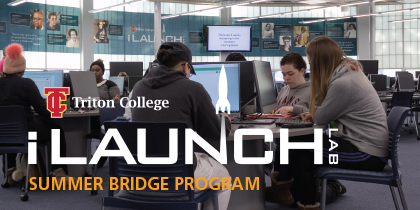 To ease the transition into college and empower students to achieve success, Triton College is offering the FREE iLaunch Summer Bridge Program for incoming freshmen. During the innovative six-week program, students will meet and develop friendships with future classmates, familiarize themselves with campus and brush up on subjects including math, reading and writing.
The iLaunch Program Summer Bridge Program takes place June 11- July 19. The convenient sessions meet from 11:30 a.m.-3 p.m., Monday-Thursday, leaving plenty of time for students to enjoy their summer.
Triton's modern, air conditioned iLaunch lab will create the perfect environment for students to engage in activities designed to help them develop a college work ethic, learn how to take advantage of available resources and determine which degree or certificate program is best for them.
The program will also allow students to meet with academic advisors to help ensure they are registered for the upcoming fall semester classes.
"If a student is serious about college but maybe isn't quite ready to jump right in, this program will give them an idea about what college life is," said Richard Zelenka, iLaunch program coordinator.
Space is limited, so don't wait to register for the FREE iLaunch Summer Bridge Program. For more information or to apply, call (708) 456-0300, Ext. 3029, or email jolitabittan@triton.edu.