July 1, 2019
Pop-Up Piano project strikes chord of creativity for Triton art students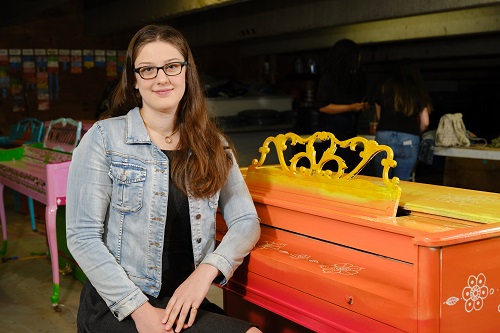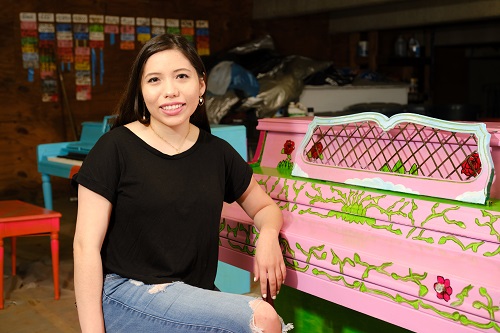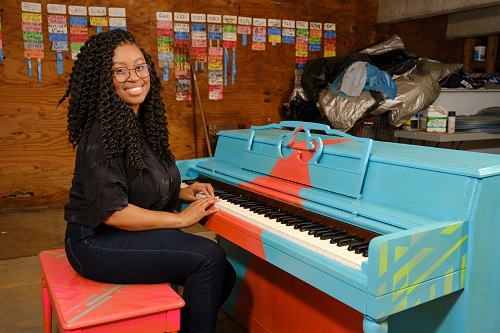 Pictured: (Top-Bottom) Triton College students Emily Temmer, Diana Carreno and Zaria Gilmore custom painted pianos that will be on display at public locations throughout the Village of Rosemont through Sept. 30. (photos courtesy of the Village of Rosemont)
In a makeshift art studio located inside of an underground parking garage in Rosemont's Entertainment District, industrial fans ventilate fumes of varnish. The clear coat serves as the finishing touch on weeks of work put in by local students, including several studying at Triton College. The air also contains a palpable feeling of pride and kinship, where students from different backgrounds bonded over their love of art.
"I think it's amazing that someone will take the time to stop and look at something that someone took so much time to create, " said Zaria Gilmore, a Triton College sophomore.
She is one of the artists of the 'Pop-Up Piano' project, the latest installment of the Rosemont Mural Initiative. Eight custom painted upright pianos have since moved from the garage to various public spaces throughout the Village of Rosemont. Gilmore and other students worked under the mentorship of internationally recognized, award winning artist Rahmaan Statik.
"Not only is it public art, but it's public art that people can interact with and influence the environment that they're in," said Statik, who has produced murals and other public art for more than 20 years.
Gilmore's piano, light blue and accented with geometric shapes of orange and yellow, will be displayed in the lobby of the Hyatt Regency O'Hare Hotel.
"This is the first time I've ever painted something so big, and that would be so public," she says with only a hint of nervous energy.
Diana Carreno is studying web development and design at Triton, and cheekily describes painting as a 'side hustle.' She welcomed the opportunity to participate in the Pop-Up Piano project.
"When you think about Rosemont, you think about the roses. They're everywhere," she said as she explained the inspiration for her project.
Red roses in full bloom sit atop the pink background of her piano, framed by a maze of green vines. The instrument sits in the lobby of the Rosemont Senior Center.
"I hope it brings a little more light into their life," she said.
For Emily Temmer, a second year art student at Triton, the Pop-Up Piano project was also her first foray into this particular type of artistic expression. Until now, she's mostly focused on creating ceramics.
"I did kind of a spray paint base with a gradient going from red to yellow, then I hand painted all of the flowers all over the piece, she explains as she walked around a freshly painted piano. "The inspiration came from some of my ceramics work. I do a lot of flower patterns and slip trailing."
Gilmore, who is studying art and history, plans to pursue a career as a curator of art for museums and galleries. She credits faculty members of Triton's Visual, Performing and Communication Arts Department for helping her to bring her skills to a new level.
"The teachers at Triton really uplift me and nurture my talent and encourage me," she said.
Specifically, the teachers encouraged the students to step outside of their comfort zones and take advantage of opportunities to work on projects like this.
"Our interest in art brought us closer together, and helping each other and inspiring each other with ideas was great," Carreno said of her experience working with other students outside of the classroom.
The Rosemont Mural Initiative is a village-sponsored program that beautifies the Rosemont community through a public art initiative providing mentorship to aspiring student artists. To date, 43 murals have been created by Statik and youth artists from the Chicago area. Each piano was provided by Heavenly Pianos in Arlington Heights.
The pianos will be on display through Sept. 30. Locations include:
Donald E. Stephens Convention Center (5555 N. River Road)
Fashion Outlets of Chicago (5220 Fashion Outlets Way)
Hyatt Regency O'Hare (9300 W. Bryn Mawr Avenue)
Parkway Bank Sports Complex (27 Jennie Finch Way)
Rosemont Senior Center (6336 N. Kirschoff Road)
Rosemont Village Hall (9501 W Devon Avenue)
Wintrust Financial Corporation (9801 W. Higgins Road)
ACL Laboratories (5400 Pearl Street)
For more information on opportunities available through art and other programs contained within Triton College's Visual, Performing and Communication Arts Department, visit Triton.edu.