August 2, 2019
Testing their mettle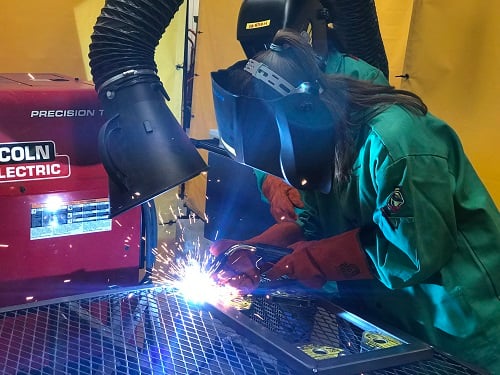 On a typical summer day, you'll usually find Maria Kunigk-Bakalar at the local ice rink working on toe-loops and triple-axels.
"I pretty much figure skate all summer long," she says.
But for one week, the eighth grader traded edge jumps for edge joints, as she participated in GLoW (Girls Learning to Weld), Triton College's brand new all-girls welding summer program.
It was a step outside of her comfort zone for sure. Until now, Maria had only a cursory knowledge of the fabrication process.
"I knew it was metal and fire," she said.
That all changed during GLoW. With ponytails draping from auto-darkening welding helmets, Maria and a dozen other girls measured, cut, fused and grinded materials from raw into recognizable. Some opted for artistic creations, like elephants made of washers and bolts. Others, like Maria, took a more practical route. She designed a C-frame nightstand.
"I can pull it over and put my laptop on it or have breakfast in bed," she said.
The camp was created by Antigone Sharris, coordinator/faculty member of Triton's Engineering Technology Program. It's supported by grants from the Nicor Gas Foundation and Nuts, Bolts and Thingamajigs, the Foundation of the Fabricators & Manufacturers Association (FMA). She hopes the camp will inspire girls to explore opportunities in the typically male-dominated manufacturing field.
"The nice part is that the girls were all open-minded, which is very important" Sharris said. "I tried to encourage creativity."
In addition to allowing the girls to experience the snap, crackle and pop of machines in a shop-like setting, campers traveled to local manufacturing facilities at which women have risen into leadership roles.
That included a trip to Ex-Cell Kaiser in Franklin Park. There, Triton College graduate Janet Kaiser serves as CEO, overseeing about 50 employees.
"I pursued a technical career by going to Triton College at night while I was running my business during the day," Kaiser said. "I actually learned the technical side as I worked in the industry."
She guided GLoW campers on a tour of the facility where they saw the production of waste and recycling products – from welding and assembly to painting, polishing and packaging. Kaiser stressed to the girls that there are many opportunities available in the manufacturing industry, both on the factory floor and in other roles like programming and product design.
"You have to know what you're talking about and be confident about it. Learn the skills, learn the math, learn the technology and you will go far," she said.
A study conducted by the Manufacturing Institute reported that women made up about 29% of the manufacturing workforce nationally in 2016. That's a sharp dip compared to the United States' total workforce, of which women make up about 47%.
According to the Bureau of Labor Statistics, there are currently more than 423,000 manufacturing jobs in the Chicagoland area, the most in nearly a decade. The Chicago area has added more than 24,000 manufacturing jobs since 2009. In May 2018, Illinois employed more than 12,000 welders, cutters, solderers and brazers alone – at an average annual salary of about $43,000.
Triton is doing its part to help prepare workers to fill those roles. In fall 2018, the college launched a welding certificate program. In just two semesters, students learn ARC, MIG and TIG welding using top flight equipment contained within a brand new welding lab. The program also includes classes on CAD and blueprint reading, along with other topics that will help program completers stand out to employers.
That's still a few years off for students like Maria however. For now, she'll head back to the skating rink until school starts back up in the fall. But she'll do so with a new appreciation of a craft that just may lead her toward a rewarding career.
"I came in thinking it would be just for fun, but I learned so much," Maria said.
She'll also have a pretty awesome nightstand.