March 29, 2019
Triton announces new transfer scholarship program in partnership with Illinois Institute of Technology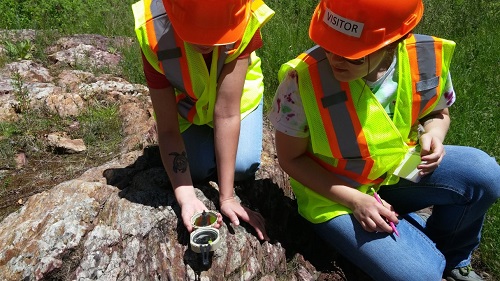 Triton College and the Illinois Institute of Technology are proud to announce a new partnership that will award $25,000 merit scholarships to students participating in Triton's GeoENgineering Innovations through Undergraduate Scholarship (GENIUS) Program. The new partnership will allow scholarship recipients to transfer to Illinois Tech following the completion of their coursework at Triton.
These scholarships will be awarded to students each consecutive year until they complete a bachelor's or master's degree program. The Illinois Tech/Triton GENIUS Award will be available to Triton College students who participate in Illinois Tech's FastForward Program. All GENIUS Program scholars will receive personal advising to ensure their continued academic and professional success.
"We are grateful for this partnership opportunity that will allow students to plan out their educational path not only here at Triton – but for several years after completing our program," said Dr. Sheldon Turner, Triton College Geology and Environmental Science faculty member. "The opportunity to pursue bachelor's and master's degrees from Illinois Institute of Technology with the help of a significant scholarship as well as other resources to support students' academic success is a great benefit."
"In keeping with our founding mission, Illinois Institute of Technology prides itself on our ability to offer exceptional opportunity and value to each of our students," said Michael R. Gosz, vice president for Enrollment at Illinois Institute of Technology. "This new scholarship is representative of our continuing commitment to ensuring the long-term success of all students, and we thank our partners at Triton College for entrusting the academic and professional development of their graduates to Illinois Tech."
GENIUS is supported by a five-year grant of $650,000 through the National Science Foundation's Scholarships in Science, Technology, Engineering and Mathematics (S-STEM) Program.
The GENIUS program recently expanded to include academically talented students demonstrating a financial need in their pursuit of degrees in any of the non-medical STEM related fields of Science, Technology, Engineering and Math. Originally, the program geared only to students majoring in geoscience and engineering technology related fields. According to the Bureau of Labor Statistics, the number of mathematical-science related jobs is expected to increase by more than 28% nationally by 2024, which is higher than the average projected growth for all occupations of 6.5%. The 10-year projected growth rate in Illinois for geo-engineering occupations is between 15 and 20%.
For more information about Triton's GENIUS Program and the The Illinois Tech/Triton GENIUS Award, contact Renee Muehlbauer, GENIUS program coordinator at (708) 456-0300, Ext. 3313, or reneechambers@triton.edu.