March 12, 2019
Triton College partners with NFPA to create career opportunities for students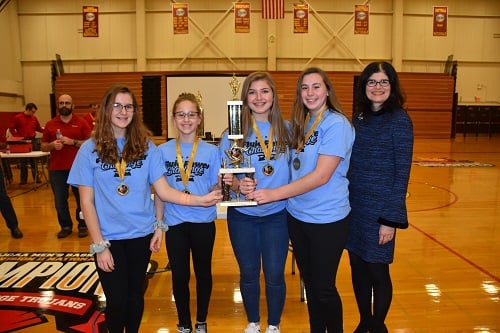 Through a new partnership with the National Fluid Power Association (NFPA), Triton College will lead the charge of helping to develop the next generation of engineering and manufacturing professionals.
Triton will serve as an NFPA Fluid Power and Applied Mechatronics Training and Employment Network(FAMTEN) hub, leveraging its strong fluid power curriculum to create connections between area community and technical colleges, industry partners and high schools. The partnership will foster the creation of new curricula and provide training that meets the needs of local fluid power manufacturing employers, putting students a path to career success.
The NFPA will provide funding to Triton College, and partnering schools and organizations to develop curricula and purchase equipment as well as provide support for scholarships and training.
FAMTEN will help spark an interest in fluid power manufacturing among middle school students as well. Through the partnership, Triton will host 'action challenge' competitions, bringing teams of middle school students together to solve design challenges using hydraulic and pneumatic power.
"Because we're working with younger students, it's important to find ways to make fluid power training fun and engaging," said Paul Jensen, Triton College associate vice president of Innovations and Workforce Education. "The key is for students to apply theory and principles of fluid power in an enjoyable setting."
The partnership will also facilitate dual credit and internship opportunities for high school students wishing to explore career opportunities in the fluid power industry. High school teachers will receive training on how to teach students about fluid power using state-of-the-art equipment.
Triton College becomes the second national FAMTEN hub, joining Waukesha County Technical College (WCTC) in Waukesha, Wis., which partnered with the NFPA in 2018. Through that partnership, the NFPA funded the purchase of fluid power training equipment for eight area high schools, which has since been incorporated into each school's coursework.
Triton College's Engineering Technology Program offers associate degree paths in mechatronics and robotics as well as several certificate program options. The program includes fluid power courses covering the principles of fluid power involving pneumatics and hydraulics.
According to the Bureau of Labor Statistics, there are currently more than 425,000 manufacturing jobs in the Chicagoland area. The BLS indicates Chicagoland saw an increase of nearly 2 percent in manufacturing jobs from November 2017 to November 2018.