May 10, 2019
Triton College tutor honored for work with adult learners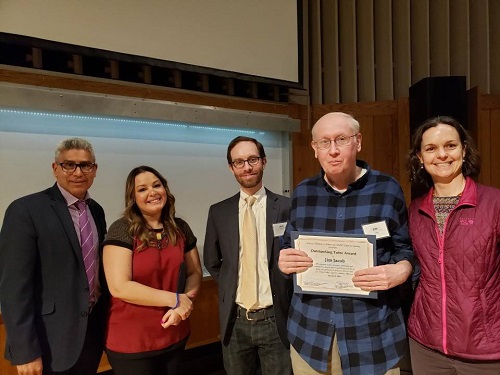 Triton College Access to Literacy Program tutor Jim Jacob recently received the 2019 Outstanding Tutor Award from Literacy Volunteers of Illinois and the University of Illinois at Chicago's Center for Literacy. The award was presented at LVI's annual On the Road to Literacy Conference.
Jacob, a River Forest resident, has been working with adult students since becoming a volunteer tutor at Triton in 2011. He says the students come to Triton at various reading levels, and he enjoys helping them to improve their literacy skills.
"The students are adults and they really want to be there. They have a really good attitude," Jacob said.
He was nominated for the award by Britt Garton Pisto, coordinator of Triton's Access to Literacy Program.
"Jim is a stellar volunteer and his dedication is second to none," Garton Pisto said. "He constantly goes out of his way to find unique ways to work with his students."
Triton's Access to Literacy Program is offered through the School of Adult Education. The program is designed to help adults develop basic reading and writing skills in English or Spanish. The goal of this program is to assist adults with emerging literacies to transition into ESL or High School Equivalency classes. Volunteer tutors are trained to assist students in small group or individual tutoring sessions. For more information, please call (708) 456-0300, Ext. 3978.
Literacy Volunteers of Illinois (LVI) is an organization that is committed to developing and supporting volunteer literacy programs that help adults, families, and out of school teens increase their literacy skills. To learn how to become involved with literacy in your area as a tutor or a student, call 312-857-1582 or visit www.lvillinois.org.