October 30, 2019
Triton College's hospitality program hosts a 'Culinary Kids Autumn Feast' for local high school students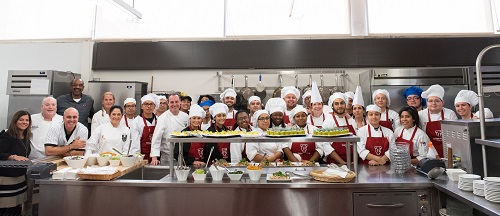 Blenders revved, dishes clanked and the air increasingly filled with delicious aromas as high school students got to work in Triton College's Culinary Program kitchen on a late October morning.
The event — the Culinary Kids Autumn Feast —was made possible through an initiative of the Office of Illinois Comptroller Susana Mendoza in cooperation with the Triton College Hospitality Industry Administration (HIA) Program.
"We created the Culinary Kids Program to address the growing problem of childhood obesity," Comptroller Mendoza told the students. "We want to get to kids as soon as possible to teach them how important it is to think about what they're putting in their bodies in terms of the food that we eat everyday — and to stress that we don't have to be wealthy to eat well."
It was an opportunity for students to meet new friends and socialize while honing their kitchen skills. With the help of some of the area's top chefs, the students also learned the importance of creating meals using fresh, healthy ingredients.
Loews Hotel Executive Chef Stephen Henry and Testa Produce Chef Courtney Barton served as special guests at the event. They helped students unlock their creativity and inspired them to incorporate healthy cooking techniques into their everyday meals. Former Chicago professional athletes Mickey Johnson (Bulls) and Mike Huff (White Sox) also attended and spoke to students about the importance of physical fitness and living a healthy lifestyle.
The students came from area high schools including East and West Leyden, Proviso East and West, Evanston Township and the Careers through Culinary Arts Program.
Christopher Sanchez, a senior at Proviso East High School, spent the day chopping onions, cabbage and cilantro for 'fall tacos,' the highlight of the autumn themed menu.
"We mixed in a lot of healthy ingredients and it was really good," Sanchez said. "It was easier than I thought."
The delectable dish also included fresh meats, guacamole and a sweet potato topping.
"To have Comptroller Mendoza here and watching her participate with the students made it an awesome event," said Triton College HIA Program Coordinator Chef Denise Smith-Gaborit. "The chefs from Loews and from Testa were just amazing with the students. Everyone worked really well together and we just had a great day."
Gerardo Corral, also a senior at Proviso East, helped prepare an apple cinnamon butternut squash soup to complement the tacos.
"It was fun and it was a helpful learning experience. I learned how to cut vegetables and use them in different recipes and to make a nice presentation of food," Corral said.
Triton's HIA Program is recognized throughout the industry as a high-quality training option for people pursuing a career in the fields of culinary arts, baking and pastry or restaurant and hotel management. Students enrolled in the program gain real-world experience working in Triton's student managed and operated dining room and retail bake shop. In addition to basic food preparation and service techniques, students also learn the fundamentals of food service and hospitality industry operations.
For more information about opportunities available through Triton's HIA Program, visit Triton.edu or contact Chef Denise Smith Gaborit at (708) 456-0300, Ext. 3624 or denisesmithgaborit@triton.edu.