April 30, 2019
Triton student will travel to Estonia to study climate change this summer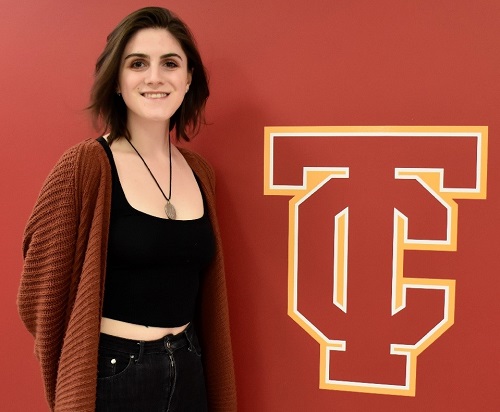 Triton College sophomore Annabella Fritts will have the rare opportunity to study climate change alongside leading scientists during a research trip to Estonia this summer. Fritts, an Elmwood Park native and Trinity High School graduate, was one of only two undergraduate students to be selected to participate in the project.
During the five-week trip, Fritts will join graduate students and faculty from Northern Illinois University in the city of Tallin, where they will collect and study sediment and soil samples in the Baltic region.
"I'm looking forward to the opportunity to help make people aware of the issues of climate change," Fritts said. "Even though there's so much data, there is still a lot of denial. Once we convince people of climate change, we can introduce solutions to it."
Once the group returns, they will work collaboratively to produce a research paper on their findings, which will be published and presented at various conferences. The research will potentially allow for a better understanding of how shifting northern hemisphere temperatures and conditions of the North Atlantic Ocean influence climate in the eastern Baltic region.
"Most students don't get to have their name on a published research paper until grad school, but, I'll be 20 years old when I have my name on one," Fritts said.
At Triton, Fritts is a member of Triton's Scholars Program, which provides scholarships and support to academically talented students who plan to pursue bachelor's degrees. She is also enrolled in Triton's newly formed GeoENgineering Innovations through Undergraduate Scholarship (GENIUS) Program, which supports students pursuing degrees in geoscience and other STEM-related fields.
Fritts originally came to Triton as a music major, but developed an interest in science after taking a geology course taught by Dr. Sheldon Turner.
"Annabella is a top-notch student at Triton," said Dr. Turner. "While majoring in Physics, she readily applies her understanding and passion for science to environmental issues within our local community, and with this Estonia research trip through NIU, she'll be applying those same skills and drive to an environmental issue on the global scale."
Fritts will graduate from Triton this spring with an associate degree. She will transfer to a university where she will pursue degrees in physics and/or environmental geology. She plans to pursue a career as a professor at a research university.
The Estonia research trip is supported by the National Science Foundation, through its International Research Experiences for Students (IRES) Program. NSF awarded a $300,000 grant to NIU geology professors Nathan Stansell and Nicole LaDue to support the project. The grant will allow groups of students to travel to Estonia to conduct research each of the next three summers.
"I want to bond with the people that I'm working with and get the experience of conducting research as a team, and work together on something that everybody cares about," Fritts said.