June 11, 2019
Triton's Adult Education programs guide students on their paths to success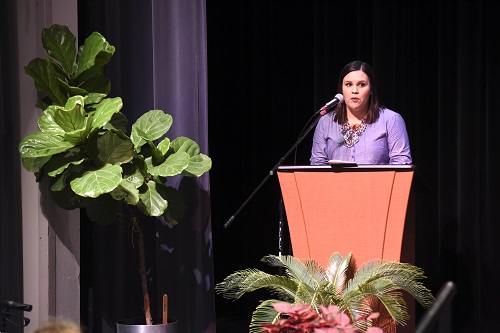 Pride and perseverance were on full display at Triton College's Adult Education Completion and Commencement Ceremony on May 23, as English as a Second Language (ESL) Program graduates and High School Equivalency Certificate completers were honored for their accomplishments.
The honorees included Board of Trustee Scholarship recipients, National Adult Education Honors Society inductees, previous Westlake Health Foundation Scholarship recipients and new American citizens. In total, students enrolled in Triton's Adult Ed Programs hailed from 18 countries and spoke nine different native languages.
Fabioloa Navarro first began learning English at Triton College in 2012 after coming to America from her native Mexico. She shared her inspiring story as the keynote speaker at the ceremony. After completing the ESL Program, she enrolled in the medical terminology bridge class and later used the Westlake Scholarship to complete Triton's Ophthalmic Technology Associate Degree Program in 2018. She now works as an ophthalmic technician.
"I worked hard and I never gave up. If I can do it, you can do it," Navarro told the graduates. "Just keep dreaming, you have already taken the first step, just keep going."
The Adult Education class of 2019 was filled with students who, like Navarro, came to America in search of a better life or new opportunities.
Doina Calcea was among this year's ESL Program completers and was one of 14 students to earn the Board of Trustees Scholarship. When she came to the United States from her home country of Moldova, she had limited English skills.
"I'm very thankful for everything Triton has given to me," she said. "It was a great experience with all of the different teachers and programs."
She plans to study photography at Triton College in the fall and then pursue a career in photography and marketing.
Triton's Adult Education programs are available to students at no or minimal cost. Students have access to a variety of support services, including completion and transition specialists who help keep students on their chosen path toward enrolling as a credit student at Triton College or entering the workforce.
For more information on Triton College's Adult Education programs, call(708) 456-0300, Ext. 3259, or 3513, or visit the Adult Education Department located in the A Building, Room A-203.