September 16, 2019
Sustainability Center continues Tree Campus USA initiative with annual tree planting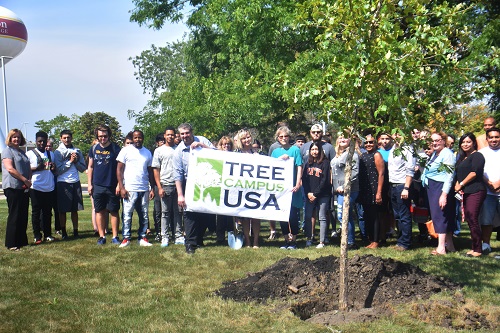 As part of Triton College's commitment to serving as a leader in urban forestry management, a swamp white oak tree was planted near the entrance of the Health and Sciences Building on Sept. 11.
Members of Triton's Greening the Campus Committee as well as other campus and community members attended a short planting ceremony, which also served as a remembrance of the events of Sept. 11, 2001. A yearly tree planting is one of the requirements to maintain Tree Campus USA status. Triton was first granted the Tree Campus USA designation by the Arbor Day Foundation in 2016.
The swamp white oak is native to Chicagoland, featuring leaves with a two-tone appearance. The tree will eventually grow to be 60-80 feet tall.
"It is a tough, hearty, long-lived tree that will help restore our ecosystem and will provide shelter and food for birds and other creatures – and shade for humans," Triton College Sustainability Coordinator Adrian Fisher said during the ceremony. "It is fitting that we plant a tree like this on this day. It is truly symbolic of the strength and resilience of all the people who have and will continue to help make our nation one in which everyone, we all, can flourish."
Triton's Tree Campus USA project was launched in spring 2016 by Kevin Li, Triton College dean of Arts and Sciences. Fisher oversees the project with the help of Triton's Greening the Campus Committee and the Tree Advisory Committee. The latter includes student, faculty and staff representatives, along with a tree expert from the Morton Arboretum in Lisle, Ill.
In addition to the annual tree planting, Tree Campus USA requirements include creating a campus tree-care plan, dedicating annual expenditures for its campus tree program, holding an Arbor Day observance and creating and sponsoring tree-related, student-service-learning projects.
Going forward, Triton has hired a tree care company that will inventory and create an interactive map of campus trees. When it is complete, the map will be accessible to the public on Triton's website.
The committee is also in the process of applying for Bee Campus USA certification.
Triton's Sustainability Center will host a free Oak Ecosystem Workshop on Thursday, Oct. 17. The workshop takes place from 8 a.m. to 1 p.m. A host of speakers will cover topics including the history and characteristics of oak ecosystems, conservation and recovery efforts, threats to oaks, and the important roles communities and homeowners can play in oak ecosystem recovery.

Click here to register for the conference. For more information on Triton College sustainability efforts and initiatives, contact Adrian Fisher at (708) 456-0300, Ext. 3364 or adrianfisher@triton.edu.