October 28, 2019
Don't Fear the FAFSA! Student aid application assistance available Oct. 30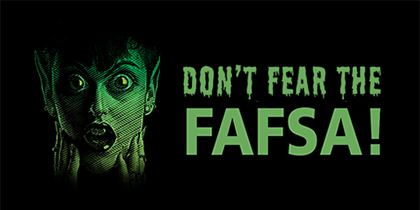 Renewing your Free Application for Federal Student Aid (FAFSA) doesn't have to be scary thanks to Trion College's "Don't Fear the FAFSA" event on Wednesday, Oct. 30.
Financial Aid specialists will be on hand from 10:30 a.m. to 12:30 p.m. in the Student Center Cafeteria to help students complete or renew their application in a matter of minutes.
Please bring a copy of your 2018 tax returns and your parent's 2018 tax returns (if you are under the age of 24).
Don't have your tax info handy? Staff may be able to access your tax data using the IRS online data retrieval tool!