March 18, 2019
Talent Abounds as Triton Troupers Circus Returns to Campus April 11-13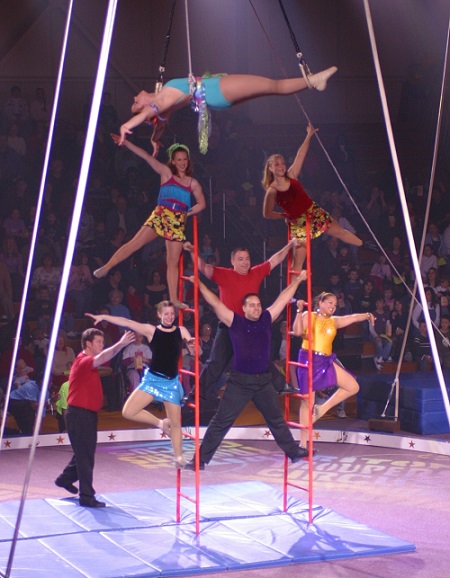 Prepare to be amazed by the high-flying, gravity-defying and endlessly-entertaining Triton Troupers Circus as it makes its return to campus April 11-13. Clowns, trapeze-artists and other talented performers will be part of the annual show on Triton College's main campus in River Grove.
The Triton Troupers Circus has entertained crowds of all ages for decades with exciting acts including tightrope walking, stunts, cycling, juggling, the gymwheel, teeterboard, stilt walking and more.
The Triton Troupers are composed of nearly 100 members from Cook, DuPage, Kane and Boone counties who all have a passion for circus arts.
The show will take place in the Robert M. Collins Gymnasium, in the R Building, on Triton's campus located at 2000 Fifth Ave., in River Grove.
Show times are 7 p.m., Thursday through Saturday, April 11-13; as well as 1 p.m., Saturday, April 13. Saturday's 1 p.m. show will be interpreted for the hearing impaired by the Triton College Center for Access and Accommodative Services. Doors open an hour before the shows and will include a clown pre-show.
Tickets are $6 (no debit or credit cards accepted) and available at the door. For more information about the circus, call (708) 456-0300, Ext. 3383, or visit http://tritontrouperscircus.com.
Pancake Breakfast
In addition to the circus, the Retired and Senior Volunteer Program (RSVP) of West Suburban Cook and Southern DuPage Counties will host its annual Pancake Breakfast on Saturday, April 13.
Breakfast runs from 8 a.m. to noon in Room R-221 of the Robert M. Collins Center on Triton's campus, and the circus begins at 1 p.m. Tickets for breakfast only are $4 in advance and $5 at the door. A special combination price for breakfast and circus admission is $8 in advance and $10 at the door. All proceeds benefit the RSVP Program. Call (708) 456-0300, Ext. 3835 or 3603, for more information.