July 11, 2019
Triton's Super Saturday Makes Enrollment Fast and Easy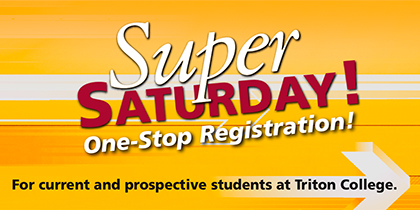 Registering for college classes has never been easier, thanks to Triton College's Super Saturday enrollment event.
From counselors on hand to ensure students enroll in the classes that best fit their goals and schedule, to financial aid specialists who will help craft a plan to pay for school, Super Saturday will provide current and prospective Triton students everything they need to get ready for the fall semester.
The one-stop registration event is Saturday, August 10, from 10 a.m.-3 p.m., in the Learning Resource Center (A Building) located on the west side of the Triton College Campus, 2000 Fifth Ave. River Grove.
During the event, you can:
Complete your application.
Register for classes.
Take placement tests.
Participate in the new student orientation.
Meet with financial aid advisors and complete the Free Application for Federal Student Aid (FAFSA).
Tour the campus.
Enjoy refreshments.
Enter a raffle to win a free three-credit hour class.
Students attending the event should bring:
Photo ID.
Copies of their ACT results.
Transcripts for college level coursework completed at another college/university.
Copies of their (or their parents') tax returns (to complete the financial aid application).
For more information, call (708) 456-0300, Ext. 3130.