April 15, 2019
Triton to host FREE 'Deployment to Employment' events May 28 and June 6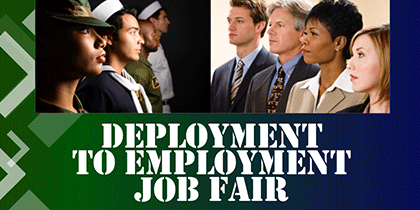 A pair of upcoming FREE events at Triton College will help veterans and military personnel transition into civilian life and equip them with skills that will help them enter and succeed in the workforce.
The "Deployment to Employment" events are open to all active duty military, reservists, guardsman, veterans and military family members.
First, on Tuesday, May 28, at 'Employment Bootcamp," attendees will attend workshops that will help them improve their resumes and interview skills, as well as build their LinkedIn profile and learn how it can assist them in their job search. Lunch will be provided at the event and attendees can have a complimentary headshot taken. A special keynote address will be presented by Mr. Dale Tippett, entitled "Effort Counts."
Then, on Thursday, June 6, the "Employment to Deployment Job Fair" will allow attendees to engage with representatives from dozens of companies and organizations looking to hire employees for a variety of roles. Workshops on obtaining federal and state employment will be held during the event as well.
Companies participating in the job fair include Avis Budget Group, Loews, US Foods, The Metropolitan Water Reclamation District, YMCA, Loyola Medicine, Hines VA, Thresholds, DCFS, Chicago O'Hare, Joliet Fire Dept., DEA, Pace Metra, Allied Universal, Brookfield Zoo, FedEx Ground and more.
"Military and veterans are the backbone of our society. They offered to give their lives so that we can enjoy the benefits of being an American," said Jacqueline Gordon, Triton College assistant director of Career Services. "The least that we can do is support them and help them obtain the American dream that they've worked so hard to protect."
Anyone wishing to attend the 'Deployment to Employment' events are asked to RSVP to jacquelinegordon@triton.edu or call (708) 456-0300, Ext. 3789.
Triton College also provides a number of services to area veterans and their families through its Veterans Resource Center, including counseling, networking opportunities, scholarship information and more. For more information on Triton College's Veterans Resource Center, visit triton.edu/students/Veterans-Services/.