September 17, 2021
Navigating College as a First-Generation Student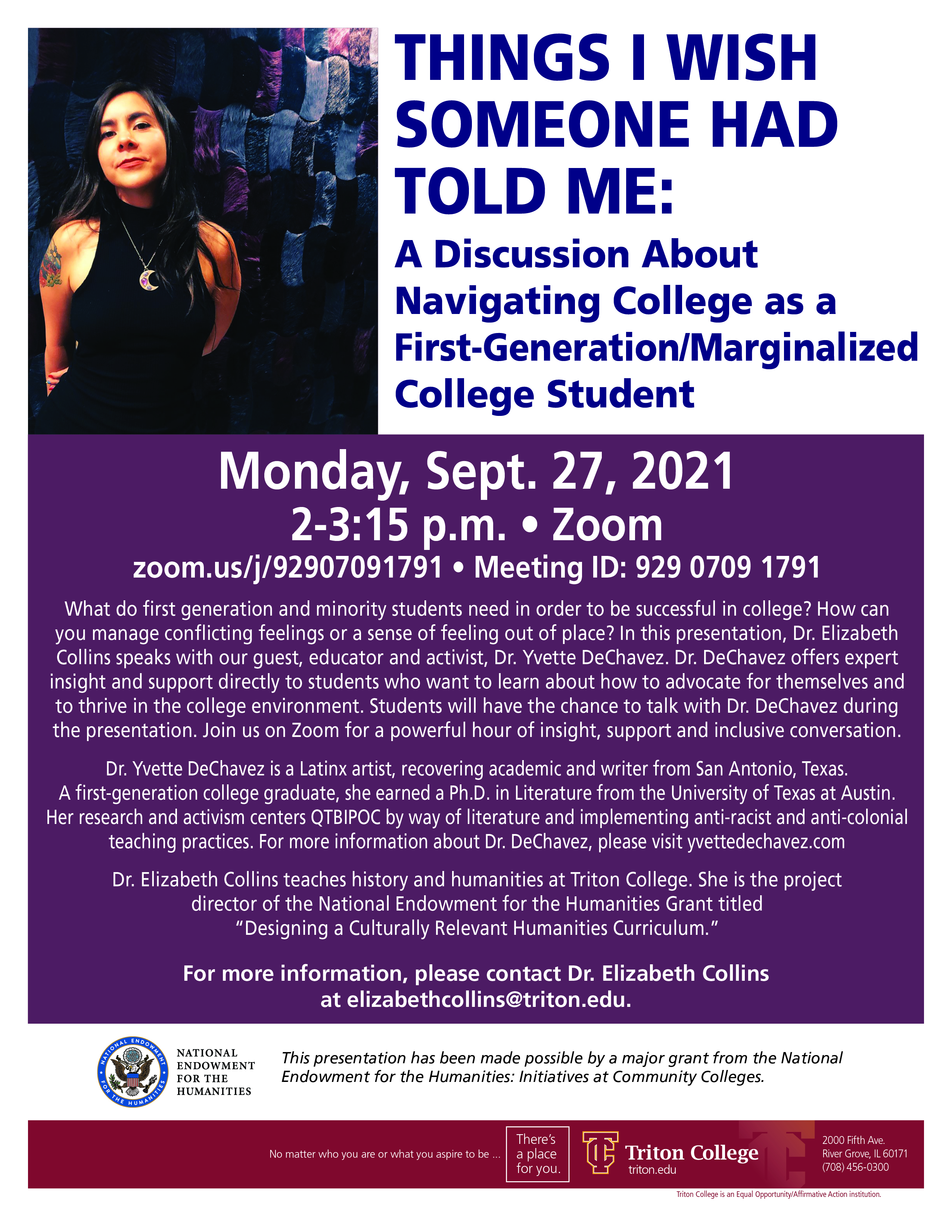 A Discussion Featuring Yvette DeChavez, Ph.D.

Triton College will host Yvette DeChavez, Ph.D., Monday, Sept. 27, 2021, via Zoom, 2-3:15 p.m. DeChavez will speak about the first-generation college student experience in a presentation called "Things I wish someone had told me." She will have a conversation with Triton's Elizabeth Collins, Ph.D., on several topics pertinent to the first-generation student experience, including:
Overcoming challenges to thrive in college.

How to manage conflicting feelings of desiring a college education but feeling out of place.

Explaining to students how to advocate for themselves.
How to get access to information and resources first-generation students need to be academically successful.

The presentation is made possible by grant funding from the National Endowment for the Humanities: Humanities Initiatives at Community Colleges (https://www.neh.gov/news/press-release/2015-06-03). Students will have an opportunity to ask questions during the Zoom presentation.
Yvette DeChavez, Ph.D., has given lectures and workshops in different subjects at universities across the country, including Stanford University, Bethany College, Southwestern University, University of Illinois at Chicago and California State University San Bernardino. She is from San Antonio, Texas and earned a Ph.D. in literature from the University of Texas at Austin. DeChavez herself is a first-generation college graduate. Her research and activism centers on QTBIPOC through literature, and implementing anti-racist and anti-colonial teaching practices.
Elizabeth Collins, Ph.D., teaches history and humanities. She is the project director of the National Endowment for the Humanities Grant titled "Designing a Culturally Relevant Humanities Curriculum."