May 11, 2022
Culinary Classes for Summer 2022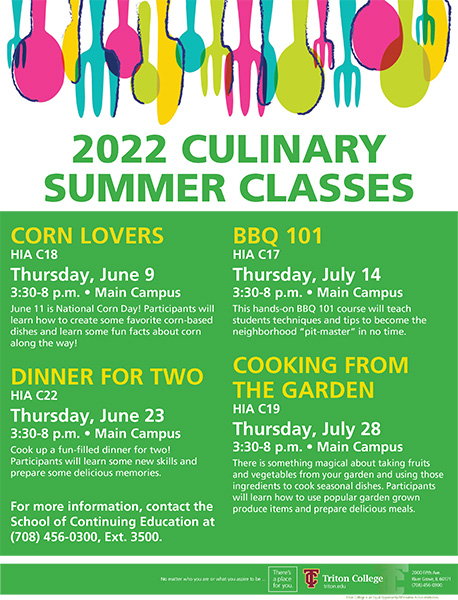 Ready for longer days, hotter nights and delicious summer meals? Triton College will be offering Culinary Classes for Summer 2022.
Starting on Thursday, June 9, Corn Lovers (HIA C18) will be held from 3:30-8 p.m. Participants will learn how to create some favorite corn-based dishes, just in time for summer! June 11 is National Corn Day, so bring a recipe or two home.
Ready for a romantic dinner with your loved one on a hot summer night? Dinner for Two (HIA C22) will be held Thursday, June 23, 3:30-8 p.m. Students will learn how to cook a fun-filled dinner for two.
Nothing says summer more than a delicious dinner on the grill! BBQ 101 (HIA C17) will be held Thursday, July 14, 3:30-8 p.m. The course will teach students tips and techniques to grill up a delicious summer meal.
Summer and gardening always seem to go hand in hand. With Triton's Cooking from the Garden (HIA C19) course, students will learn how to utilize fruits and vegetables from the garden and use them to make seasonal dishes. The course will begin Thursday, July 28, 3:30-8 p.m.
All courses held on Triton's main campus.
For more information, contact the School of Continuing Education at (708) 456-0300, Ext. 3500.