May 15, 2022
Total Lunar Eclipse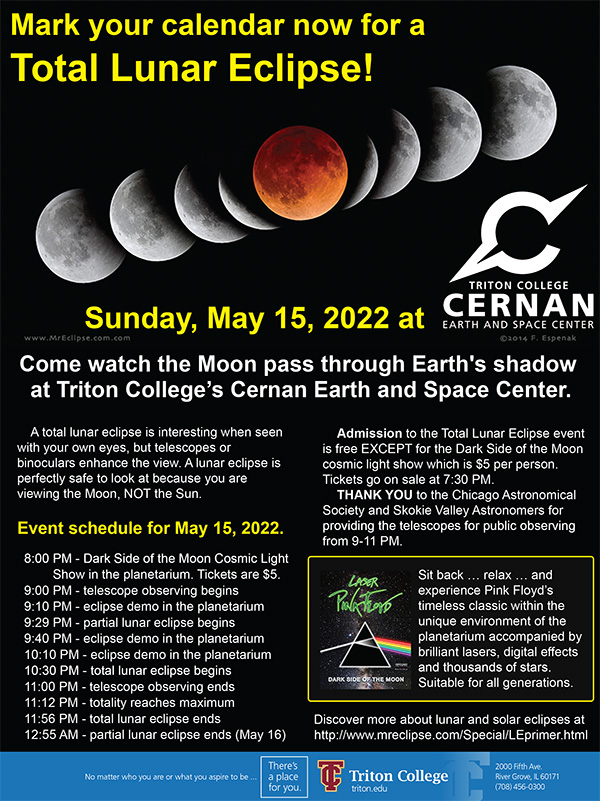 Triton College Cernan Earth and Space Center will be celebrating the total lunar eclipse with a special event on Sunday evening, May 15, 9-11 p.m.
Celestial gazers can enjoy The Pink Floyd Dark Side of the Moon Light Show at 8 p.m. Tickets will be available at the box office beginning at 7:30 p.m. Admission is $5.
The Dark Side of the Moon Cosmic Light Show consists of Pink Floyd's timeless classic album accompanied by brilliant lasers, digital effects and literally thousands of stars. All ages are welcome! The Star Store will also be open for shoppers.
At 9 p.m., telescopes provided by the Chicago Astronomical Society of Skokie Valley Astronomers will be set up on the Cernan Earth and Space Center's lawn so guests can view the eclipse.
A total lunar eclipse is safe to view with your own eyes, but telescopes or binoculars can greatly enhance the view!
Those in attendance are encouraged to bring their own binoculars, lawn chairs or blankets to enjoy this celestial spectacle, weather permitting.
Throughout the eclipse, there will also be several free, short demonstrations in the planetarium explaining how and when eclipses occur.
"This is a great way to get outside with friends and family and experience the universe around us," said Cernan Earth and Space Center director Kris McCall. "Astronomy is accessible to all regardless of your age, education or language."
McCall said there will be another lunar eclipse on Nov. 8, 2022, however, that one will occur at sunrise and the view will not be very clear.
For more information, contact kristinemccall@triton.edu or (708) 456-0300, Ext. 3372.