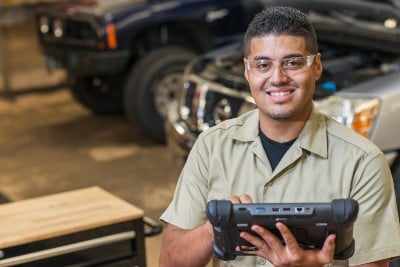 "Career Choice is an innovative Amazon program uniquely designed to upskill Amazon employees who are interested in pursuing a future outside of Amazon. By partnering with Triton College to deliver training for high-demand careers, Amazon is proud to give eligible employees the tools they need to make a move and pursue their aspirations."
---
Approved Amazon Career Choice Programs
Our courses are constantly updated to reflect the latest industry and real-world developments and start throughout the year. For a complete list of programs by area, click HERE or review list below.
At this time, the majority of the programs are being conducted online with a combination of synchronous and asynchronous work. Some courses that involve lab work meet on campus a portion of the time (masks are required, course sections are reduced in size and social distancing is practiced).
---
Amazon Advisor
Hi, I am Brandon and I will be your personal advisor with Triton College. Please reach out to me at brandonmarks@triton.edu or call (708) 456-0300, Ext. 3717, with any questions about Amazon Career Choice programs at Triton.

---
Career Assistance
If you're interested in career guidance, please contact Katy McGuinnis at katymcguinnis@triton.edu.
---
About Triton College
Welcome to Triton College, where it's about you! Covering over one hundred acres, Triton's campus has facilities like the Cernan Earth and Space Center, the third largest planetarium in Illinois, and our state-of-the-art health careers building.
On the east campus, we have a botanical garden, a greenhouse and some of the best athletic fields in the country.
Even though more than ten thousand students enroll every year, we make sure every student receives personalized attention in small, accessible classes. Our highly qualified faculty combines distinguished academic credentials with valuable, real-world experience.
---
Amazon Employee Information
For details on your enrollment path or how to sign up for the program, go to amazoncareerchoice.com.