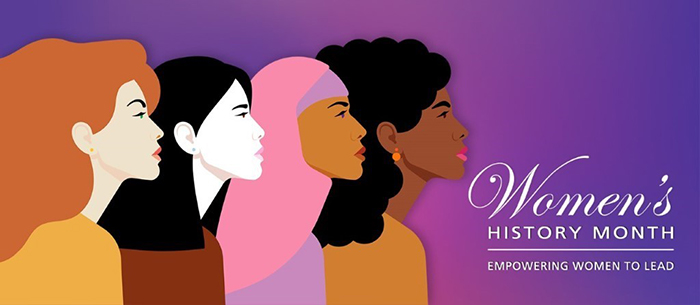 ---
Calendar of Events
---
Wednesday, March 3
Noon to 1 p.m.
Tea Time with the Women of Triton

Welcome by Triton College President, Mary-Rita Moore
Guest Speakers:
Andrea Bangura, Dean of Students
Denise Jones, Dean of Retention and Student Engagement
Hilary Meyer, Dean of Academic Success
Dr. Jodi Koslow Martin, Vice President of Enrollment Management and Student Affairs
Join via Zoom:
Meeting ID: 818 2055 6237
Passcode: 498769
Pick up a take-home tea kit while supplies last from the Office of Student Life, room B240. For questions, please contact the Office of Student Life. Call: (708) 456-0300 Ext. 3383 or E-Mail: studentlife@triton.edu
---
Wednesday, March 10
12:30 p.m. - 1:30 p.m.
Women in the Beauty Industry
Come join us in a discussion looking at influential women who have had an impact working in the Beauty industry. From CEO to the face of the industries. We are taking a look at the many different roles they take on and the impact it has today.
Join via Zoom:
Meeting ID: 896 7087 0983
Passcode: 551865
---
Friday, March 19
It Was All a Dream
A conversation for millennials with journalist and author Reniqua Allen
Journalist, author, producer, writer Reniqua Allen will discuss her generation's pursuit of success, happiness and freedom on their own terms. The journalist, whose work has appeared in the Washington Post, New York Times, Guardian, Buzzfeed and who has produced a range of films for PBS, HBO, and MSNBC, will share not only her personal experiences as a young professional seeking upward mobility but also those of other black millennials from across the United States she interviewed for her book "It Was All a Dream: A New Generation Confronts the Broken Promise to Black America."
View on the Triton College YouTube Channel
---
Monday, March 22
Noon
Influential Words by Women
The Triton College Library's celebration of women authors is going virtual in 2021! This year, participants can record and submit short videos of their readings, and we will create an on-demand playlist for the campus community to view this month. In addition, we will feature selected readings at our live virtual event on March 22nd at 12:00PM.
Need ideas for what to read? We have all of that covered: https://library.triton.edu/WHM2021.
Join via Zoom:
Questions? Contact Lauren Kosrow, Ph.D. at laurenkosrow@triton.edu.
---
Wednesday, March 24
2 p.m.
Nasrin: Film Screening and Discussion
Director Jeff Kaufman and Producer Marcia Ross invited to join the discussion
Filmed in Iran by women and men who risked arrest to make this film. NASRIN is an immersive portrait of one of the worlds most courageous human rights activists and political prisoners, Nasrin Sotoudeh, and of Irans remarkably resilient womens rights movement. In the courts and on the streets, Nasrin has long fought for the rights of women, children, LGBT prisoners, religious minorities, journalists and artists, and those facing the death penalty. She was arrested in June 2018 for representing women who were protesting Irans mandatory hijab law, and she was sentenced to 38 years in prison, plus 148 lashes. Even from prison, she has continued to challenge the authorities.
Join via Zoom:
Hosted by the Professional Development Center.
Questions? Contact Susan Rohde (PDC) at susanrohde2@triton.edu.
---
Friday, March 26
Conversations at Triton: Empowering Women to Lead
Visit Triton College's YouTube Channel to view a conversation with women leaders at Triton.
Andrea Bangura, Dean of Students
Denise Jones, Dean of Retention and Student Engagement
Hilary Meyer, Dean of Academic Success
---
Monday, March 29
4 p.m.
"Hey Girl Hey! Let's talk." A mental health roundtable discussion for women students
Local mental health care professionals will join Leslie Wester, M.A., LCPC, counselor at Triton College and Stephanie Townsend, student success advisor/SURGE Program to discuss how to raise awareness about mental health resources and support for students. During the discussion students can receive guidance on how and who to talk with about issues and events that may be impacting their mental health. Invited professionals include:
Lu Rocha, M.A., MSW, LCSW, RYI - is a bilingual Spanish speaking licensed clinical social worker who has worked with the Latinx community for over twenty years. Her professional experience includes counseling, organizing, activism, and advocacy within the Latinx community and other marginalized communities. She works with clients from a variety of cultural and ethnic backgrounds and has experience in providing services to youth who have experienced and/or witnessed family and community violence.
Yvette Mitchell, LCSW - is a therapist specializing in individual, couples and family therapy. She specializes in treating people who are experiencing chronic stress, relationship discord, family conflicts, and emotional distress related to chronic illness. She works with a wide range of emotional and behavioral issues providing services that span from therapy for depression and grief counseling to parenting support, couples counseling and beyond.
Latania Franklin, MSW, LCSW - specializes in anxiety, depression, and trauma recovery. Latania has mainly worked with minority and underrepresented populations. She has a private practice and, also supports college students in Chicago. Her main goal as a therapist is to help her clients reach their highest potential by helping them process their past so they can live the life they deserve.
Join the roundtable discussion via Zoom:
Meeting ID: 948 7903 4404
Passcode: 244561
---
Tuesday, March 30
2:30 - 3:30 p.m.
Women Leading Across Cultural Lines
Dr. Rosita Lopez, Professor Emerita, Northern Illinois University
Women hold less than 20 percent of leadership positions in the American workforce, and even less is held by women of color. This topic will discuss issues of identity, diversity, inclusion, collaboration, and equality in the workplace. We will discuss challenges in the workplace with a focus on women and their professional development. We will also look at the impact our words and actions have on others. Inclusive skills and understandings are imperative for navigating success in the workplace.
Join via Zoom:
Hosted by the Professional Development Center.
Questions? Contact Susan Rhode (PDC) at susanrohde2@triton.edu
---
Virtual events

to observe and celebrate the month
---
Art Institute Chicago
Bisa Butler: Portraits
Through September 6
PBS Station: WTTW
Women's History Month Programming
Chicago Detours
Bada** Women of History Virtual Event
March 8, 12, 20, 27
Chicago Women's History Center
Inequities in Women's Health
Wednesday, March 24
6:30am - 7:30am
Free Online Event: Register
National Women's History Museum
Visit the museum's website to explore a collection of virtual exhibits.
---