Coming to Campus
October 27, 2021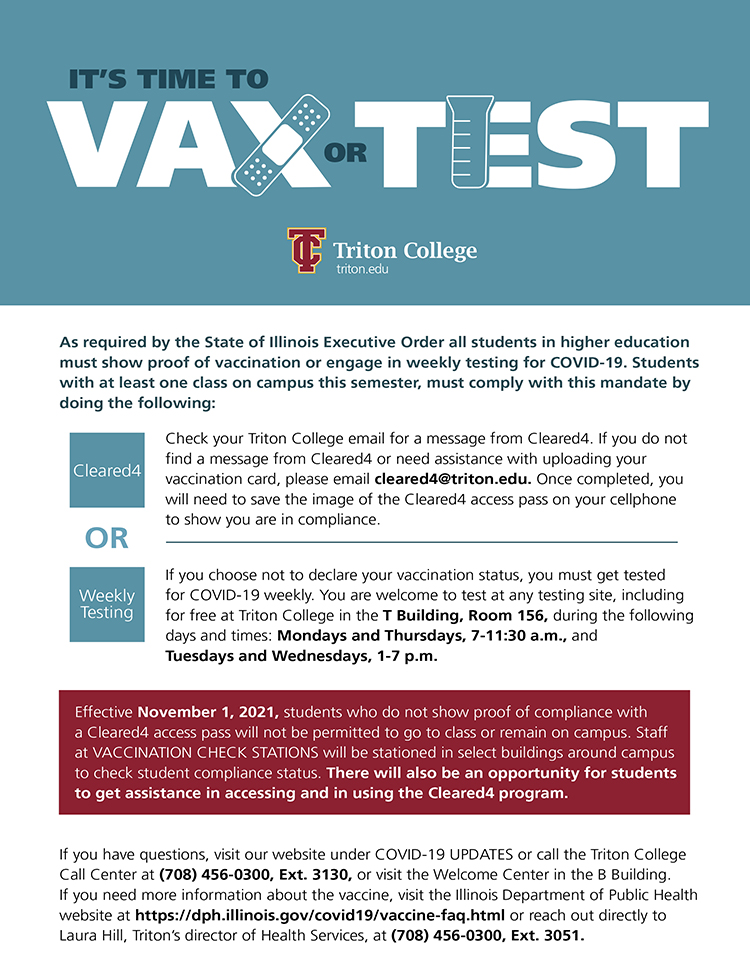 Employees, please login to your employee portal for FAQs.
For visitors to campus, vaccination is strongly encouraged as vaccines remain the best option for our campus community to maintain a healthy and safe environment. Specific visitors will need to undergo COVID-19 testing on campus. Please see the FAQs below for more information.
Masks are required of all individuals at all indoor locations on campus.
---
CLEARED4 Information
CLICK ON THE INSTRUCTIONS & FAQS BELOW TO PROVIDE YOUR VACCINATION INFORMATION ON THE CLEARED4 PLATFORM.
---
How to Manage My Risks
In response to additional requests for guidance, Triton College has compiled the following list of online resources, recommended travel guidelines, and frequently asked questions.
Check these webpages to monitor ongoing updates regarding COVID-19:
Cook County Department of Public Health (CCDPH)
Illinois Department of Public Health (IDPH)
Centers for Disease Control and Prevention (CDC)
---
Triton College Mask Policy
In accordance with the Cook County mask mandate, all Triton College students, employees, and guests will be required to wear a mask indoors on campus regardless of vaccination status. Triton continues to follow protocols and procedures recommended by the Centers for Disease Control and Prevention (CDC) and Illinois Department of Public Health (IDPH), including those for masks and physical distancing.
---
Campus Safety Guide
As we welcome students, guests and community members back to campus, we invite you to download Triton's Campus Safety Guide. The guide provides details on the progress we have made as a campus community to maintain a safe campus environment. Click here to download the guide.
---
Free COVID-19 Screening
Watch this video for information on Triton's free COVID-19 screening.
---
Reporting a Case of COVID-19
If you have tested positive for COVID-19, you must contact your instructor(s) and send an email to the Director of Health Services, Laura Hill at laurahill@triton.edu. Please do not come to campus.
CampusClear
Triton College utilizes CampusClear, a free mobile app that allows you to self-screen for COVID-19 symptoms. You are required to use the app daily when on campus. Download the app here.
---
On Campus COVID Safety
---
Things to Remember
If you have a fever of 100.4 degrees or higher, or any other symptoms of the COVID-19 virus, please do not come to campus.
---
Regular Hand Washing
To reduce the risk of contracting COVID-19, it is important to follow good hygiene protocol, including regular hand washing. The Centers for Disease Control and Prevention (CDC) recommends:
washing hands often with soap and water for at least 20 seconds;
avoid touching eyes, nose, or mouth with unwashed hands; and
avoid close contact with people who are sick.
Additionally, automatic hand sanitizer dispensers are available throughout campus.
Entering and Leaving Classrooms
Wait for others to leave a classroom, giving them space to exit, before you enter.
---
Additional Information for Students
Registration
Classes are still available for Fall 2021. Students may add classes through 11:59pm Tuesday, August 24, 2021 through the student portal. After this date, students may add an open class prior to the second class meeting by emailing the requested course to registration@triton.edu or calling 708-456-0300. Advisors are also available to assist students seeking assistance in course selection and academic planning in the B building from 8am - 7pm Monday - Thursday and 8am - 4pm Friday.
CARES Act Money for Students
The latest distribution of federal funds called the American Rescue Package is now available. Students enrolled in one or more Fall 2021 credit or non-credit classes may complete a brief application for up to $1500. More information can be found at:
CARES Act Funds
Class Formats
This fall, Triton College will offer five types of courses:
Traditional In-person – Classes meet on campus at scheduled meeting time(s) each week. Triton will offer a very limited amount of these courses.
Extended Remote Learning (ERL) – a virtual classroom experience with scheduled set meeting time(s) each week.
Blended ERL – Classes take place virtually (scheduled weekly meeting times) and required on campus instruction as arranged by the instructor.
Online – classes held in standard online format.
Hybrid – Classes held in standard online format, that also includes required on campus instruction.
Our fall course offerings are structured to ensure that we can transition between online and in-person instruction while preserving the quality and integrity of our courses and maintaining safety.
Return to Campus Resources
We have compiled a list of valuable resources and services to assist students in being successful in their remote learning experience.