Orientation Leaders Program
Orientation Leaders (OLs) are the face of Triton College. They serve as role models as well as sources of support and information for new first-time students. Our Orientation Leaders share information about academic, personal and social resources while working collaboratively with faculty, staff and student workers from other areas on campus. Triton College, New Student Orientation Leaders, are very excited to welcome the newest Trojans to campus each academic year.
---
Orientation Leadership
Requirements
Currently enrolled at Triton College
A returning student, enrolled in at least 6 credit hours​
In good academic standing at Triton, with a minimum GPA of 2.0​
Able to work with students, faculty and professional staff​
Excited to work in a team environment and being open to address groups of people​
Positive, enthusiastic, and motivated to succeed
Duties
Attending and actively participate in all trainings, orientation sessions and other dates of service.
Serve as guides during New Student Orientations and other campus events.
Serve as a Peer Mentor to incoming students.
Work as a team with other Orientation Leaders, Student Ambassadors and Triton staff.
Have a positive personality, be out spoken, flexible and ON TIME!!!
Facilitate group discussions, activities and tours.
Demonstrate the ability to provide GREAT customer service for all things Triton!
Demonstrate the ability to work and communicate effectively with a diverse group of people.
Show respect for others and a willingness to appreciate others' views.
Benefits /Incentives would include:
Students can earn up to (2) free 3 credit hour in-district voucher, based on completing 85% of the available training and orientation hours, campus tours, admissions events, commencement, and campus events during the summer and throughout the academic year.
Access to the Student Life Lounge which is reserved for student senators and executive board members of all recognized student clubs and organizations
Recognition on college transcripts
Letters of recommendation for scholarships and college applications
References for employment opportunities
Eligibility to apply for three Student Life scholarships
Networking with college administrators and department supervisors – increasing the chance of being considered for part-time or full-time employment within the college
Priority Registration
---
Triton College Orientation Leaders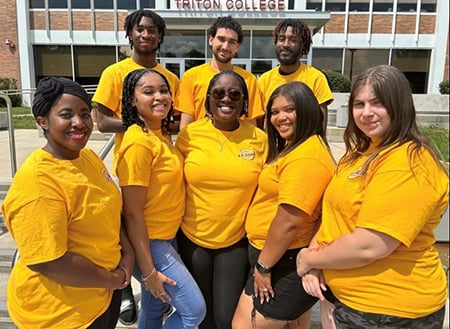 Our friendly and knowledgeable Orientation Leaders are excited to meet you and ready to help answer questions. Incoming students, parents, families and supporters are invited to interact with our Orientation Leaders during events and more.
Dimah Amin Al-Ali (She/Her)
Naidelin Alvarez (She/Her)
Sammy Ammra (He/Him)
Kennedy Bolden (She/Her)
Vivian E Bustamante (She/Her)
Vanessa Campbell (She/her)
Deandre Harris (He/Him)
Nathan Hugger (He/Him)
Mark Kouria (He/Him)
Amanda "Mak" Marchese (She/Her or They/Them)
Jazmine "Jaz" Pittman (She/Her)
Imani Portee (She/Her)
Danajah Sanfold (She/Her)
---
Contact Information
Stephanie Townsend
stephanietownsend@triton.edu
708-456-0300, Ext. 3795