The idea of the Ethics Bowl was developed in 1993, in the Chicago metropolitan area by Robert Ladenson professor of philosophy at the Illinois Institute of Technology as an intramural event. In 1997 Ladenson organized the first Intercollegiate Ethics Bowl in conjunction with the meeting of the Association for Practical and Professional Ethics (APPE). Today APPE is the organizing body of the Ethics Bowl.
In the words of Ladenson the "Ethics Bowl is an activity that combines a valuable and distinctive educational experience for students with the excitement and fun of a competitive team game" (The Educational Significance of the Ethics Bowl, 65). It is a friendly yet challenging competition among teams of undergraduate students who investigate controversial ethical issues and defend their ethical position by means of reasoned arguments. Participants in the Ethics Bowl often describe it as one of the most impactful and fulfilling events in their undergraduate experience.
Ethics Bowl will help you:
Think critically about contemporary moral issues
Communicate fluently and in an well-organized manner
Research information autonomously
Become sensitive to moral perspectives different than your own
Socialize with your peers and professors in the professional setting of the APPE
For more information contact Daniele Manni, coach of the Triton College Ethics Bowl Team and visit the APPE Ethics Bowl page.
Triton College Ethics Bowl Team
The Triton College Ethics Bowl Team was started in 2013 by coach Daniele Manni. The Team participates regularly in the Upper Midwest Regional Ethics Bowl and in the Two-Year College National Ethics Bowl. In 2018 the Triton Ethics Bowl Team earned the second place at the Two-Year College National Ethics Bowl.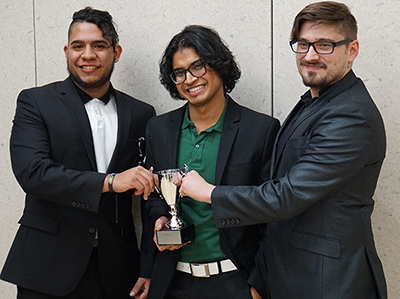 From the left: Hector Cedeno-Indriago, Samuel Salmeron and Jakub Siemaszko.